Ervin Santana Proves He's Underrated,Throws a No-Hitter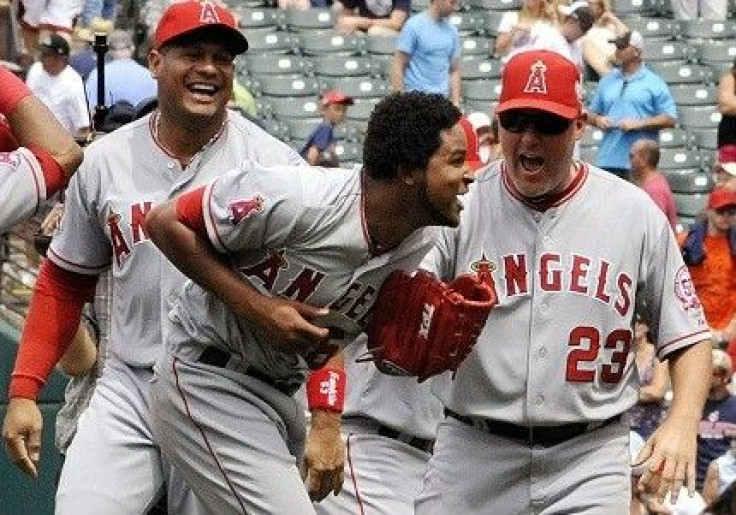 Those who watch Ervin Santana pitch on a regular basis were not all that surprised when the Angels' starter threw a no-hitter against the Cleveland Indians on Wednesday afternoon.
The Dominican Republic native has been very inconsistent over his career, but when Santana is on his game he's extremely effective. He only threw 29 balls against Cleveland, and struck out 10.
Santana, 28, has career statistics that don't tell the whole story, and his dominance against the Indians was certainly no fluke. He has an excellent slider, and throws in the mid-90s.
In his previous start, Santana took a no-hitter into the sixth inning against the Baltimore Orioles before giving up a one-out double. He finished the game with a very good line: 7 and two-third innings pitched, three hits, one run, and one walk.
It's been an overall outstanding July for Santana, who has given up seven earned runs in 28 and two-third innings. His ERA is currently 3.47, but it would be much better if he didn't have such a sluggish start in April when he posted a 4.89 ERA.
In September 2010, Santana didn't allow an extra base hit against the hot-hitting Texas Rangers while throwing a five-hit shutout. Those types of flashes of brilliance are common for Santana. Also, he often appears to get better as the season progresses.
"In the last two months you could really see him coming on," said Mark Saxon of ESPN, who also said that Mike Scioscia was making that same point.
Wednesday was the first no-hitter for Santana. It might not be his last.
© Copyright IBTimes 2023. All rights reserved.