Even Journalists Not Spared As Police Unleash Violence Amid George Floyd Protests
KEY POINTS
Police attacked journalists all throughout the weekend
Many of these attacks came while journalists were broadcasting live
This is a continuation of a trend last highlighted in Ferguson in 2014
The police high-handedness in dealing with the protests against the killing of George Floyd and the rampant racial inequality was not confined to the protestors. An avalanche of videos shared across social media showed police instigating violence and torturing journalists covering the unrest.
Molly Hennessy-Fiske of the Los Angeles Times wrote "I've covered protests involving police in Ferguson, Mo., Baton Rouge, La., Dallas and Los Angeles. I've also covered the U.S. military in war zones, including Iraq and Afghanistan. I have never been fired at by police until tonight."
The widely reported arrest of CNN journalist Omar Jimenez and his crew by the Minneapolis police, despite declaring themselves to be press, seems to be just the tip of an iceberg. Wall Street Journal reporter Tyler Blint-Welsh reported being attacked by the police despite retreating with his hands up and his press badge visible.
Vice journalists shared this video of police detaining them after clearly declaring themselves to be press, and Michael Anthony-Adams recorded himself being pepper-sprayed by one cop while he was being held down by another. (Despite its anodyne name given by authorities, the immensely painful pepper spray is illegal to use in war per the Chemical Weapons Convention).
WCCO photojournalist Tom Aviles can be seen being detained by the police in Minneapolis even though he is clearly retreating.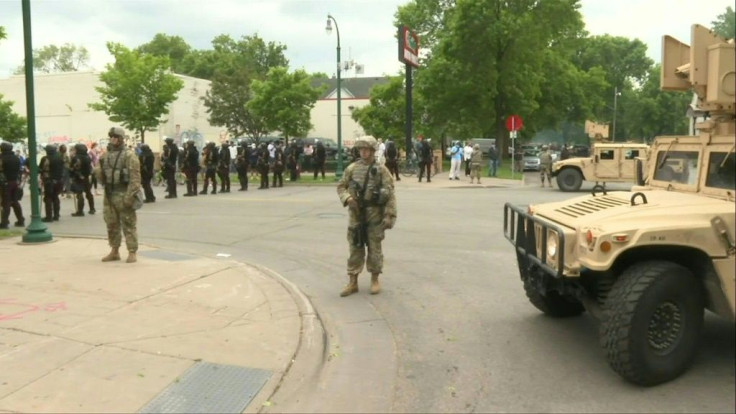 In Denver, journalists with Channel 7 News were fired upon with paintballs and tear gas.
Many images of police covering their badge numbers like this were shared widely across social media. This makes it far more difficult for police to be prosecuted in court for any potential criminality.
In Louisville, cops shot a reporter live on air with WAVE 3 News.
Linda Tirado, a Minneapolis-based photojournalist, said she was permanently blinded in one eye by police shooting so-called "non-lethal" rounds at her face.
Adolfo Guzman-Lopez, a reporter for Los Angeles's KPCC, said the police aimed and shot at his throat with a rubber bullet.
MSNBC's Garrett Haake was hit with a police projectile while reporting live on air.
MSNBC's Ali Velshi was also shot at with rubber bullets and tear-gassed live on air.
Minneapolis Star Tribune reporter Jared Goyette reported cops shooting non-lethal rounds at his window as he drove away from the scene trying to return home.
Freelance reporter Phoebe Leila Barghouty reported that Huffington Post reporter Christopher Mathias was arrested despite his press badge showing, and it was "incredibly violent."
While many have been quick to blame President Trump for supposedly emboldening police aggression against the press, Washington Post reporter Wesley Lowery (who was arrested while reporting in Ferguson, Missouri) pointed out that these scenes are nothing new, saying on Twitter that "Seeing some commentary saying that this type of hostility toward the press is due to Trump. Police in Ferguson did this on many nights. Full camera crews and reporters targeted with arrests, tear gas, rubber bullets and on some nights threatened with lethal force. That was 2014."
© Copyright IBTimes 2023. All rights reserved.