Ex-cop In Philadelphia Accused Of Trafficking Guns Used In School Shooting
KEY POINTS
The accused was working as Sheriff's Deputy since February 2018
He was dismissed from department "for repeated violations"
He sold two semi-automatic pistols and ammunition for $3,000
A former Philadelphia sheriff's deputy allegedly sold two guns that were used in a deadly school shooting in Pennsylvania.
The ex-deputy, identified as Samir Ahmad, 29, allegedly illegally trafficked the two guns to the perpetrators, federal authorities said Thursday, according to ABC News.
Ahmad was charged with firearms trafficking and illegally selling firearms to a person unlawfully, according to a statement issued by the Department of Justice.
Ahmad allegedly made his first sale of a revolver on April 27, according to a crimimal complaint accessed by the outlet. Another sale was made on Oct. 13 of two semi-automatic pistols and ammunition for $3,000. In both cases, the buyer was a confidential FBI informant who was staying unlawfully in the U.S. and said he could "get deported" if he was caught with arms, the DOJ statement noted.
Ahmad was working with the Philadelphia Sheriff's Office as a deputy since February 2018. He was arrested and convicted on Oct. 19.
Court documents revealed two of the firearms sold by Ahmad on Oct. 13 were allegedly used in the deadly shootout at the Roxborough High School on Sept. 27. The shooting killed a 14-year-old school kid and injured four others.
"Just two weeks later, the defendant obtained two of the guns used in that shooting then sold them to the informant," said prosecutors in a press release. "The fact that the defendant had access to these guns so quickly after they were used to commit such a horrific crime speaks volumes about the danger that this defendant poses to the community."
"As alleged, Samir Ahmad abused his authority -- to the greatest extent possible -- as a sworn law enforcement officer," U.S. Attorney Jacqueline Romero said, adding that he was "adding fuel to the already incendiary fire of deadly gun violence in the city of Philadelphia."
"The idea of a sworn public servant so blatantly undermining public safety is reprehensible," Jacqueline Maguire, special agent in charge of the FBI's Philadelphia Division, said, as quoted by USA Today.
Ahmad could end up serving up to 25 years in prison and a $500,000 fine, court documents said.
The Philadelphia Sheriff's Office issued a statement in the matter, noting that Ahmad was dismissed "for repeated violations" of the office's "directives, policies, and procedures."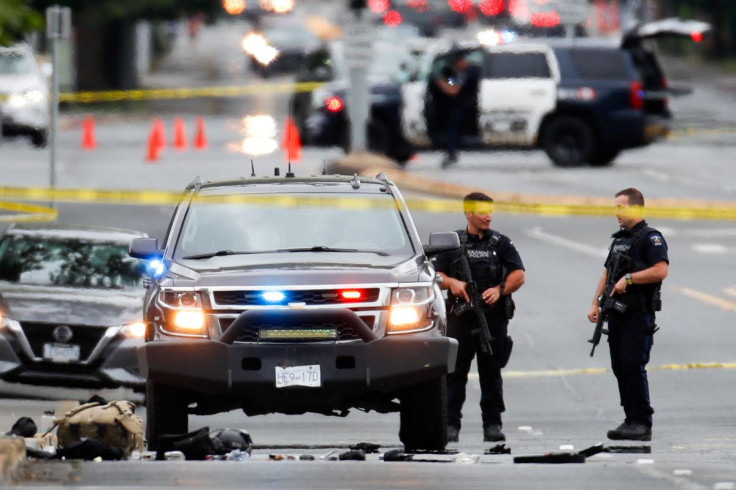 © Copyright IBTimes 2023. All rights reserved.