Exclusive: Should You Stock Up On Shiba Inu NFT? Shiboshis Revolutionary Utilities In The Pipeline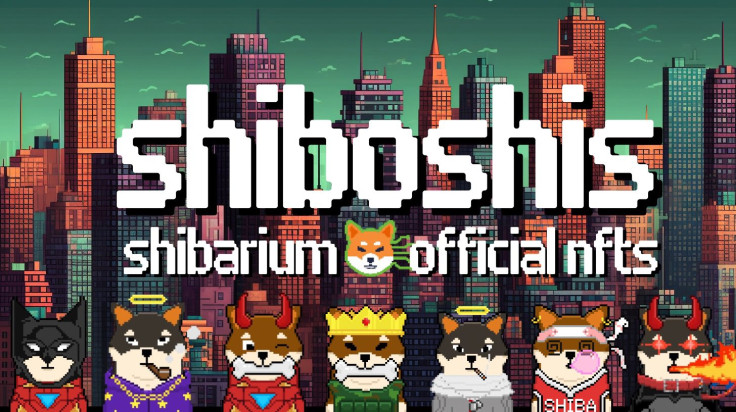 KEY POINTS
Shiboshis are still among the top NFTs on OpenSea, holding the 37th spot out of the top 100 collections
Shiboshis could get more utilities, which might include a breeding mechanism
The floor price of Shiboshis was reportedly down by 87% at 0.30 ETH as of 9:00 p.m. ET on Sunday
Shibarium, the layer-2 scalability solution of the Shiba Inu ecosystem, is anticipated to launch in August. While some Shib Armies are investing in BONE, the official gas fee token of the upcoming initiative, others are stocking up on Shiboshis, the 10,000 Non-Fungible Tokens (NFTs) generated on the Shiba Inu ecosystem and recorded permanently on the Ethereum blockchain that could see the launch of revolutionary utilities in the pipeline.
Launched in October 2021, the pixelized digital collectibles of the Shiba Inu ecosystem are still among the Top NFTs on the non-fungible token marketplace OpenSea, holding the 37th spot out of the top 100 collections.
This is "thanks to promotional tools such as 'Shiba Eternity,'" Mazrael, the master of the collectible card game (CCG) of the Shiba Inu ecosystem and a moderator of Shibarium Tech, told International Business Times in an exclusive interview.
In the CCG, Shiboshis are not only represented but also allow players to use certain trait combinations, the "Shiba Eternity" master said, before adding, "For example the Leash accessory, on their own, allow access to strong cards or combos and in anticipation of the P2E version of the game... Those are now very hard to get on the market!"
He also cited an example and shared previous tournaments have shown "top players play very aggressive decks!" "The last winner came up with a counter in the form of Steel clothes trait boshi, providing armor to counter the direct damage and win the marathon," he said.
Mazrael also noted that while the "Shiba Eternity" mobile game may not directly use the NFT Shiboshis, it is still "a good promotional tool for the boshis and shows the might of the Shiba to a whole new crowd, the gamers."
When IBT asked for details and clarification about rumors of an upcoming utility for Shiboshis in "Shiba Eternity," the game master said the details are yet to be revealed but suggested that this might have something to do with a "renting mechanic and a breeding mechanic," quoting William Volk, former vice president of tech at Activision and currently a consultant at Shiba Inu Games, who said, "Good things come in pairs!"
Mazrael added that these upcoming utilities could mean allowing gamers to combine "two Shiboshis to create a new unique one" and provide "access to new trait combinations, appearance and powers."
The breeding mechanic is an interesting feature since according to the Shibarium Tech moderator, it could introduce "new combinations of traits and new ways to make decks along with new cards and a new use for the boshis." He said it "will certainly bring a lot more customization to the P2E version of the game" aside from allowing Shiboshi owners to take advantage of "rewarding opportunities and benefits" via "the breeding and renting mechanics."
IBT also asked Mazrael what the community could look forward to from Shiboshis, and in response, he revealed that a wide range of "exciting applications" is on the horizon, including "staking." However, he said the most significant role of the pixelized collection would be in the upcoming Play-To-Earn (P2E) version of "Shiba Eternity."
In addition to Mazrael, the Shiba Ecosystem and Shibarium Tech marketing strategist who uses the Twitter handle @LucieSHIB revealed why she needs so many Shiboshis. "Simple! I'm a huge fan of #ShibaEternity, and once it launches on #Shibarium as Shiba Eternity play-to-earn, you'll need a #Shiboshi to start earning," she noted, confirming what Mazrael revealed to IBT.
"You can either rent it to other players or earn yourself. It's an exciting way to generate active income in future $Treat," she said. "So, some of us are aiming to own a lot for a cool renting business in @mvshib (SHIB: The Metaverse)."
She then noted, "We currently own 33 (if you rent it with a pass of $35 a month that is $1,155 a month by doing nothing, just rough math, some will be more expensive based on features)."
The floor price of Shiboshis was down by 87% at 0.30 ETH as of 9:00 p.m. ET on Sunday, based on the latest data from OpenSea.
© Copyright IBTimes 2023. All rights reserved.