Executions, Floggings, Amputations: Life Under Shariah In Northern Mali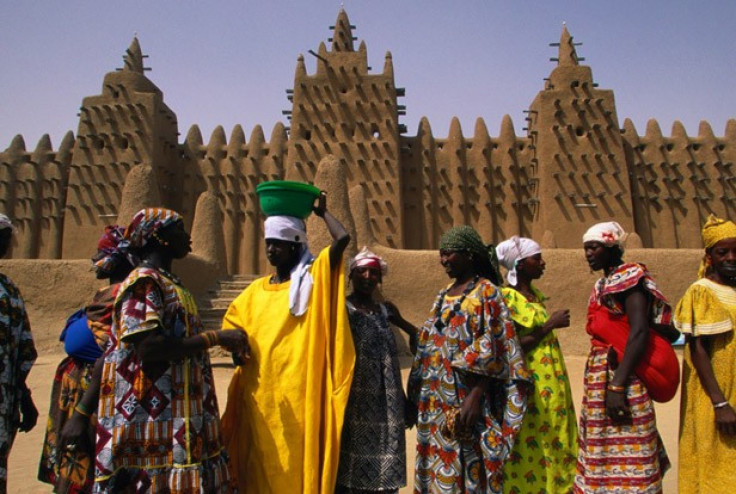 Extremism blossomed in an unlikely place this year.
Mali may seem obscure; it's been a long time since this West African country made international headlines. And in this case, no news was good news -- the country has been home to one of Africa's most stable democracies since 1992.
But two decades of peace were upended in January, setting off a chain of events that has brought a severe version of Shariah law into the region.
All of a sudden, hundreds of thousands of Malians are suffering greatly under the yoke of Islamist militants. And considering the unrest that has spread like wildfire across the Middle East and North Africa only recently, the world should be paying close attention to this landlocked, semi-arid country of 15 million people.
Time To Talk
At the U.N. General Assembly in New York City, Mali figures prominently on the loaded agenda. U.N. Secretary General Ban Ki-moon held a meeting to discuss the issue on Wednesday.
"The Sahel [a belt of land below the Sahara desert] is at a critical juncture. Political turmoil, extreme climatic conditions and fragile economies are combining to create a perfect storm of vulnerability," he said in a statement. "The people and governments of the region need urgent international support."
But that support has been a long time coming. A Human Rights Watch, or HRW, report released on Tuesday found severe human rights abuses are taking place in northern Mali every day.
"The Islamist armed groups have become increasingly repressive as they have tightened their grip over northern Mali," said Corinne Dufka, senior Africa researcher at HRW, according to the report .
"Stonings, amputations and floggings have become the order of the day in an apparent attempt to force the local population to accept their world view. In imposing their brand of Shariah law, they have also meted out a tragically cruel parody of justice and recruited and armed children as young as 12."
In wide-ranging interviews with HRW, witnesses described countless restrictive policies and harsh punishments. Smoking, drinking, socializing, revealing skin in public -- all of these once-acceptable acts are now met with brutally severe penalties.
Months Of Mayhem
The Islamist takeover is only the latest chapter in a series of major upsets in Mali this year.
It all began with an invasion by the Tuaregs, a stateless ethnic group. Many had acquired new weaponry when they were drafted to fight for Moammar Gadhafi during the Libyan revolution of 2011. Swooping in from the Sahel, these armed nomads made significant inroads into northern Mali this January.
This eventually prompted a military coup down south, in Mali's capital city of Bamako.
A group of mid-ranking army members stormed the palace there in late March, voicing disappointment over the civilian government's weakness in the face of Tuareg rebellions. But the poorly organized junta made no progress of its own against the invaders -- to this day, a chunk of northern Mali the size of France is beyond the reach of Bamako.
That's not to say the Tuaregs were successful in their bid for an independent state. They were quickly usurped by the Islamist groups who followed them into northern Mali and have since imposed a severe version of Shariah law.
There are now two main groups who wield power in northern Mali: Ansar Dine and the Movement for Unity and Jihad in West Africa, or MUJAO. Both outfits are associated with an umbrella group called al Qaeda in the Islamic Maghreb, or AQIM.
Law Of The Land
AQIM was officially formed in 2007, but its origins can be loosely traced further back to the Islamist rebel groups who fought and lost in the bloody Algerian civil war of the 1990s. Widely spread and loosely organized, these militants have posed only a minimal threat to the outside world for most of the last two decades.
But now that Mali has emerged as a base of operations, AQIM is gaining broader influence. They have been linked to groups outside of Mali, including Ansar al-Shariah, the Libyan-based organization whose members were accused of perpetrating the Benghazi attacks that killed four American diplomats this month.
The expansion of AQIM's sphere of influence beyond the Maghreb is a major cause for concern. But for now, northern Mali is bearing the brunt of the suffering as communities struggle to adjust to the extremists' brutal new system of justice.
The insurgents of Ansar Dine have control over the cities of Timbuktu and Kidal, while MUJAO is in charge of Gao and surrounding areas. MUJAO is the more extremist group, though both towns now operate according to Shariah law.
Mali is a majority Muslim country, but strict adherence to Shariah law was never the norm. Life under the rebel groups has become unrecognizable to the residents of in these once-vibrant towns.
"When we're young, we should enjoy our youth," said one Malian driver to HRW. "We want to dance, listen to music, flirt with women, smoke, drink tea with our friends, but with [the new leaders], we can't do anything."
A young woman also bemoaned the loss of her rights in northern Mali.
"The north feels dead," she said. "As a woman, I can't dress up, wear perfume, go for a stroll with my friends. ... They've even outlawed chatting in groups. They say instead of talking we should go home and read the Quran."
Both of these northern Malians have fled their homes and now reside in Bamako; they are just two of the hundreds of thousands of northern Malians who have been displaced from their communities. Those who remain must deal with widespread food insecurities, especially since the presence of rebels has drastically hindered aid organizations from working in the region.
Outside Looking In
Meanwhile, international powers are wringing their hands. The African Union, the Economic Community of West African States, or Ecowas, and the United Nations are still deciding how -- or whether -- to send troops to support Bamako.
An agreement was reached this week whereby Mali will accept 3,000 Ecowas troops in Bamako to help Mali defeat the insurgents, but this is pending approval from the Security Council of the United Nations.
Ban Ki-moon's comments in New York City were in support of Malians' sovereignty, but he urged prudence first and foremost.
"Any proposed military solution to the security crisis in northern Mali should be considered extremely carefully," he said. "This could have significant humanitarian consequences, including further displacement and restrictions on humanitarian access."
This concern is warranted, hence the reticence of the Security Council, which has already vetoed an earlier plan for intervention in Mali due to a lack of details and has yet to approve of Bamako's latest agreement with Ecowas.
But until a comprehensive plan can be drafted and approved, hundreds of thousands of northern Malians will continue to suffer at the hands of their new leaders.
"We're Muslims, good and faithful Muslims," said one young Malian to HRW. "But honestly, these people have taken all the joie de vivre from our lives."
© Copyright IBTimes 2023. All rights reserved.