EXO D.O. Salutes Fan Who Took Military Leave Just To Watch His Movie 'The Moon'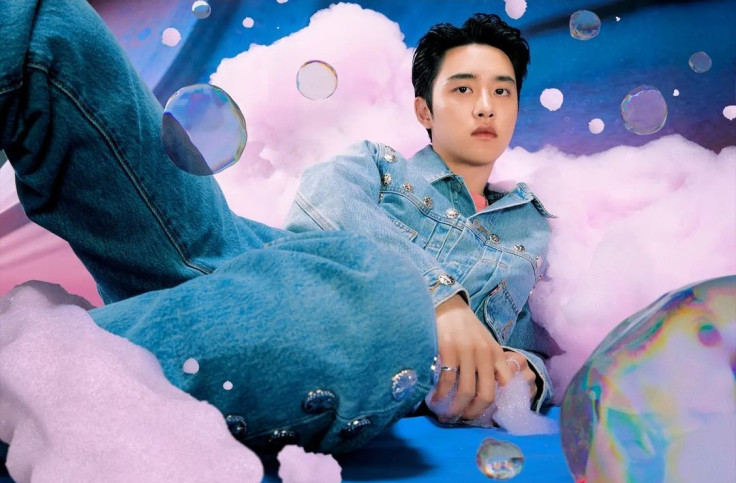 KEY POINTS
EXO member D.O. is currently promoting his new film, "The Moon"
D.O. met a fanboy who took a leave from the military to watch his movie
Videos of D.O.'s interaction with the fan went viral on social media
EXO member Do Kyungsoo — popularly known as D.O. — had a cute interaction with a long-time fan who took a military leave just to see him in person.
The 30-year-old idol-turned-actor has been busy promoting his new movie, "The Moon," released earlier this month, visiting several cinemas across South Korea to meet with fans and thank them for supporting his new film alongside cast members Sol Kyung-gu, and Hong Seung-hee, among others.
During one stage meeting, D.O. met a fanboy who claimed to have taken time off from the military to support the singer's new movie and hopefully meet him in person. Several videos of the fan and the "Growl" hitmaker's interaction have gone viral on TikTok.
In one video uploaded by the Twitter fan account @milkteus, the fanboy attempted to catch the attention of D.O. by shouting, "Hyung! I took military leave to see you, Hyung!" Luckily, the singer immediately turned to the fan, though he was in the middle of a speech, asking him to repeat what he said.
"I took leave from the military to see Hyung today," the fan repeated, which shocked D.O. and earned cheers from the crowd. The singer then smiled and thanked the fan for coming.
Another video showed the EXO member going on rounds to meet with fans up close. Upon meeting the fan, D.O. immediately shook hands with him and even saluted as a sign of respect.
After the incident went viral, fans — known as EXO-L — couldn't help but admire the interaction. Some even claimed that D.O. was among the top celebrities in South Korea with the most fanboys.
"This is so cute. Kyungsoo really collecting every fanboy out there," one commented.
"Brought tears to my eyes. He is so well-loved. Totally deserving," a third user stated.
"Oh my gosh, I love this interaction," a fourth user added.
Another wrote, "Kyungsoo fanboys are always cute, and they stan the cutest idol."
D.O. is currently promoting his new movie, "The Moon," a science fiction film about an astronaut (Kyung-gu) who gets stranded in outer space after his spacecraft malfunctions. He then meets the man (D.O.) who has been isolated in space for years after his mission suffered a disaster.
Aside from the movie, D.O. recently concluded promotions for his and fellow EXO bandmates Suho, Kai, Chanyeol, Baekhyun, Xiumin, Chen and Sehun's comeback album "Exist" — their first full-length album in nearly four years since "Obsession" in 2019.
© Copyright IBTimes 2023. All rights reserved.