EXO's 7th Full Album 'Exist' Tops iTunes Top Album Charts In 66 Regions

KEY POINTS
"Exist" topped iTunes album charts in 66 regions after its release Monday
The album's title song, "Cream Soda," topped iTunes song charts in 46 regions
EXO's "EXOcial Club - Cream Soda" pop-up store is now open
EXO made a strong comeback and topped iTunes' top album and song charts with its seventh full album, "Exist."
According to a report by South Korean media outlet Ten Asia, "Exist," which was released on Monday, topped iTunes' album chart in 66 regions worldwide, including Japan, France, Spain, Germany, Saudi Arabia, UAE, Qatar, Netherlands, Sweden, Austria, Greece, Australia, Denmark, Singapore, Taiwan and Finland.
The album was also ranked No. 1 on the iTunes album charts in Hong Kong, Vietnam, Thailand, Philippines, Indonesia, Cambodia, Russia, Colombia, Mexico, Turkey, Egypt, India, Kazakhstan, Malaysia, Armenia, Azerbaijan, Brazil, Fiji, Mongolia, Paraguay, Poland, Portugal, Chile, Ecuador, Israel and Laos, among many others.
EXO's new album also reportedly topped the album sales charts of China's QQ Music and Kugou Music. In the boy group's home country, "Exist" topped South Korean music charts Yes24 and Kyobo Book Center.
Meanwhile, the album's title song, "Cream Soda," topped iTunes' song charts in 46 regions worldwide.
The "Cream Soda" music video is currently on the No. 6 spot on YouTube's Trending for Music list, having garnered over 4.7 million views in just 21 hours since its Monday premiere.
The pre-release tracks "Let Me In" and "Hear Me Out" already have over 11 million and 6.9 million views, respectively, as of press time.
"Exist" consists of nine tracks, namely, "Cream Soda," "Regret It," "Hear Me Out," "Private Party," "Cinderella," "No Makeup," "Love Fool," "Another Day" and "Let Me In."
It marks the group's first full-length album in nearly four years since 2019's "Obsession."
In other news, EXO opened a pop-up store in Seoul, South Korea, in celebration of the release of the group's seventh studio album.
According to Star News, EXO's pop-up store, "EXOcial Club - Cream Soda," will be open until Aug. 6 at the D Museum and Understand Avenue in Seongdong-gu, Seoul.
"EXOcial Club - Cream Soda" reportedly features a photo zone based on the music video set of "Cream Soda," an arcade game zone, an exhibition space with a photo booth, and a merchandise zone.
The three album versions of "Exist," the photo book version, the digipack version and the SMini version, are up for sale in the merchandise zone.
Other official goods, including baseball uniforms, A4 posters, 4X6 photo sets, trading card sets, 4-cut photo sets, acrylic stand sets and T-shirts, are also being sold.
Some fans of EXO – more popularly known as EXO-Ls – have visited the pop-up store and have been sharing photos of their visit on social media.
EXO's special "Cream Soda" beverage can be enjoyed by EXO-Ls visiting the "EXOcial Club - Cream Soda" pop-up store.
There are also other drinks and treats served at the pop-up store, including soft ice cream, peach iced tea and iced choco latte.
According to a video uploaded by user @waaagob on Twitter, the EXO members came to the pop-up store Monday.
Another user, @U_Deng__, uploaded a video in which Baekhyun is seen enjoying his cream soda beverage.
EXO-Ls who wish to visit the pop-up store can make advance reservations on Yes24's website. The pop-up store will be open from 1 p.m. until 8 p.m. KST for its entire run.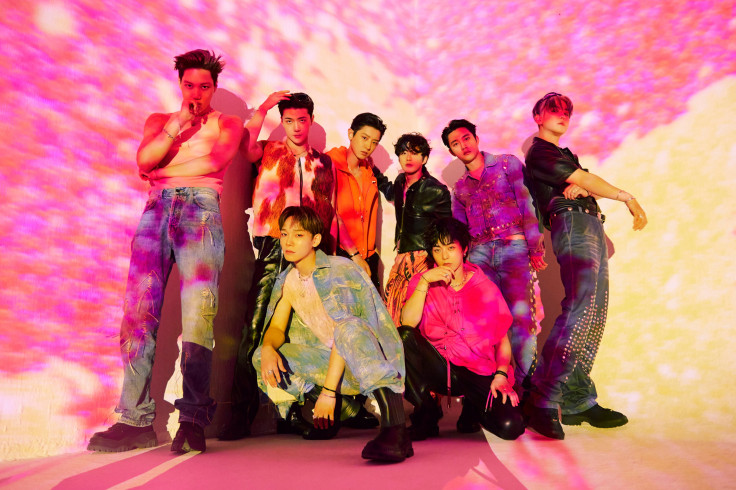 © Copyright IBTimes 2023. All rights reserved.