'Eyewitness' Season 1, Episode 7 Trailer Released: Helen Gets Closer To Finding Out Who The Killer Is [SPOILERS]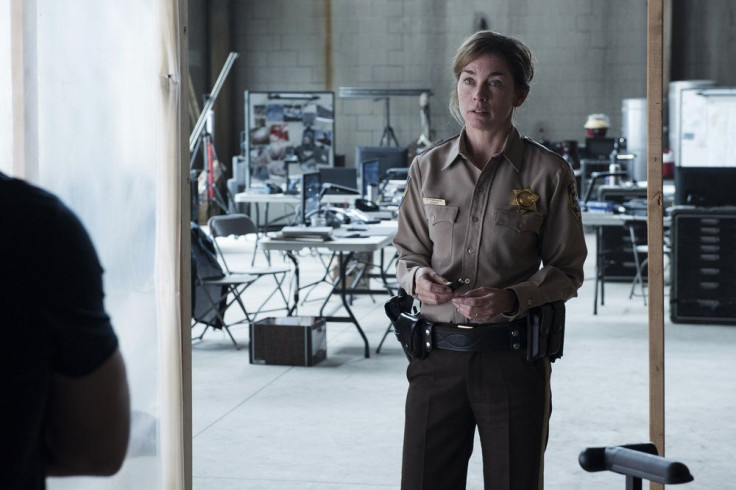 Helen (Julianne Nicholson) is a step closer to finding out the truth about the triple murder.
In the trailer for Season 1, Episode 7 of "Eyewitness," Helen asks Lukas (James Paxton) if he thinks he would know the killer's face if he sees him again. The promo clip doesn't reveal Lukas' response, but Gabe (Gil Bellow) can be heard in the video saying that Philip's (Tyler Young) lover "was able to identify the killer."
While Lukas' confession helps the investigation of the case in a huge way, this puts him in a very risky position, as the killer — Ryan (Warren Christie) — now knows who to get to rid of him in order to keep his real identity a secret.
According to the synopsis for the episode, titled "They Lied," Helen uncovers new evidence that the killer is still alive and dangerous. So in order to keep Lukas safe, the town sheriff seeks Kamilah's (Tattiawna Jones) help in protecting him.
On the lighter side of the episode, Lukas and Philip finally embrace their secret romance after the motocross rider came forward to Helen at the end of last week's episode and admitted that he indeed witnessed the killings in the cabin.
"Why did you bring the gun to Helen?" Philip asks Lukas in the promo video.
"Because they're gonna take you away," Lukas replies.
In a Q&A on Facebook Live after Season 1, Episode 6 aired, Young said that the story only gets better as the season continues.
"That scene with Julianne in the tunnel and the scene at the table with everyone [in Episode 6] — those are some of the most iconic scenes [for me]," he said. "But things from here on out are like insane. Basically [Episode 6] sets the tone for how the rest of the season is going to feel. So prepare yourselves for insanity."
"Eyewitness" Season 1, Episode 7 airs on Sunday, Nov. 27, at 10 p.m. EST on USA Network.
© Copyright IBTimes 2023. All rights reserved.