FIFA Ethics Report Calls For Sanctions Against Blatter, Platini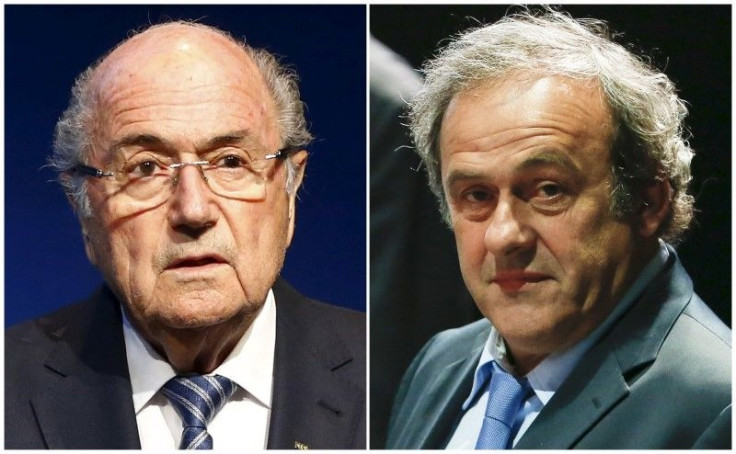 FIFA ethics investigators called on Saturday for sanctions against President Sepp Blatter and European soccer boss Michel Platini, dealing a fresh blow to Platini's bid to succeed Blatter as head of world soccer's governing body.
Both men were suspended from their posts for 90 days on Oct. 8 pending a full investigation, engulfed by a deepening corruption scandal as the sport faces criminal probes in Switzerland and the United States.
The investigatory chamber of FIFA's ethics committee - acting independently of the organization's leadership - said on Saturday it had completed its inquiry, but did not say why it was recommending sanctions nor what those sanctions should be.
Its report will now be passed to the committee's adjudicatory chamber, which will decide whether investigations should be pursued and on any potential sanctions.
"The investigatory chamber of the independent Ethics Committee has submitted its final reports containing requests for sanctions against Joseph (Sepp) Blatter and Michel Platini to the adjudicatory chamber chaired by Hans-Joachim Eckert," the ethics panel said the statement.
"For reasons linked to privacy rights and the presumption of innocence until proven guilty, the chamber will not publish details of the concluded reports and the requested sanctions against the two officials."
Blatter has been FIFA president since 1998. Platini has been head of European soccer's governing body UEFA since 2007 and, until he was suspended, had been favorite to replace Blatter in FIFA's Feb. 26 presidential election.
Platini's hopes of standing were put on hold because of his suspension. He has appealed to the Court of Arbitration of Sport against his provisional ban but, even if he wins and is allowed to stand, his plans would be scuppered if Eckert's adjudicatory chamber accepts the investigation's recommendations.
The adjudicatory chamber said in a separate statement it would decide whether to open formal proceedings and, if necessary, on sanctions "in due course."
FIFA's electoral committee has said Platini's registration will not be processed while he is suspended, although it could reconsider its position if he wins an appeal.
Platini's appeal was rejected in the first instance by FIFA's Appeal Committee this week.
Blatter also faces criminal investigation in Switzerland over a 2 million Swiss franc ($2 million) payment from FIFA to Platini.
The payment was made in 2011 for work Platini had completed nine years earlier, the Swiss attorney-general's office has said, adding Platini was considered "between a witness and an accused person."
Both men have denied wrongdoing.
The ethics committee said its chief investigator Cornel Borbely was not involved in its investigation of Blatter as both men are Swiss.
"As the two proceedings are closely related and to avoid any appearance of a conflict of interests, Dr Borbely also withdrew from the proceedings against Michel Platini," it added.
Instead, Robert Torres from Guam submitted the report on Blatter and Trinidadian Vanessa Allard compiled the report on Platini.
The ethics committee appears to have taken a tougher line against offenders in the last year, handing out a series of long-term bans from soccer-related activities - which includes playing, coaching and administrative roles in the sport.
Former executive committee members and powerbrokers Jack Warner and Chuck Blazer have been given life bans, while Reynald Temarii was banned for eight years and Chung Mong-joon, who had planned to run for the FIFA presidency, for six.
In another case, former Chilean federation president Harold Mayne-Nicholls, who also compiled the technical reports on countries which bid to host the 2018 and 2022 World Cups, was banned for seven years.
On Monday, Ganesh Thapa, president of the All-Nepal Football Association, was banned for 10 years and fined 20,000 Swiss francs, while Viphet Sihachakr, president of the Laotian Football Federation, received a two-year ban and 40,000 franc fine.
© Copyright Thomson Reuters 2023. All rights reserved.
FOLLOW MORE IBT NEWS ON THE BELOW CHANNELS