FIFA Scandal: UEFA Head Michel Platini Asked To Run For President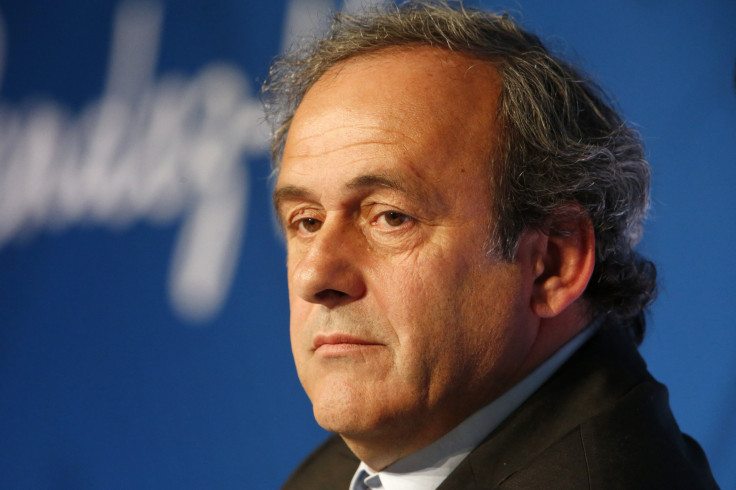 FIFA has asked Michel Platini, who heads the Union of European Football Associations (UEFA), the governing body of soccer in Europe, to stand for FIFA's presidency amid a major scandal, media reports said Monday.
Platini has gained the support of a majority of FIFA's confederations but has not yet decided if he will run, the Associated Press reported, citing an unnamed source.
The decision was taken when executives of the international governing body of soccer met on Monday to choose a date for the new presidential election, after the hotly contested re-election and the subsequent resignation of longtime president Sepp Blatter. Platini chose not to run in that election, but backed Blatter's competitor, Jordanian Prince Ali bin al-Hussein.
In early June, days after being reelected, Blatter said he would stand down, but he didn't specilfy when. Blatter on Monday is set to announce some sweeping reforms for the world body, which are expected to include the introduction of term limits, tougher integrity and corruption checks, and calls to publicly display the salaries of top FIFA officials.
In the Monday meeting, Hussein called for Blatter to leave immediately. "President Blatter's resignation cannot be dragged out any longer. He must leave now," he said, according to BBC. "He cannot be permitted to plan his succession and manage this election process. An interim independent leadership must be appointed to administer the process of the elections, in addition to the reforms that are being discussed prior to the elections."
Hussein gave no indication whether he intends to run again in the next election, which is scheduled for Dec. 16. He added, however, that the date is too early and unfair to the members of the governing body.
"It will not be possible for any of the other football associations of the world to put forward credible candidates from our community," he said. "It is their absolute right to be a part of this process, and to have time to carefully consider the future without being rushed into an early election."
UEFA remained noncommittal about reports suggesting Platini's desire to run. "Nothing has been decided or announced on this subject," a representative said, according to Soccerway.
FIFA is currently embroiled in a massive corruption scandal that has witnessed the arrests of several leading officials and other executives linked to firms from across the world. The United States and Switzerland have launched parallel investigations into allegations of corruption and money laundering involving over $150 million.
FIFA's decisions to award the 2018 and 2022 World Cups to Russia and Qatar, respectively, are also under investigation. U.S. prosecutors have alleged that the move was influenced by kickbacks, while Qatar has faced condemnation from labor and human rights groups for its treatment of migrant laborers in the run-up to the tournament.
© Copyright IBTimes 2023. All rights reserved.