'Fifty Shades Darker' Set Photos Show Cast Filming Memorable Scenes From E.L. James Book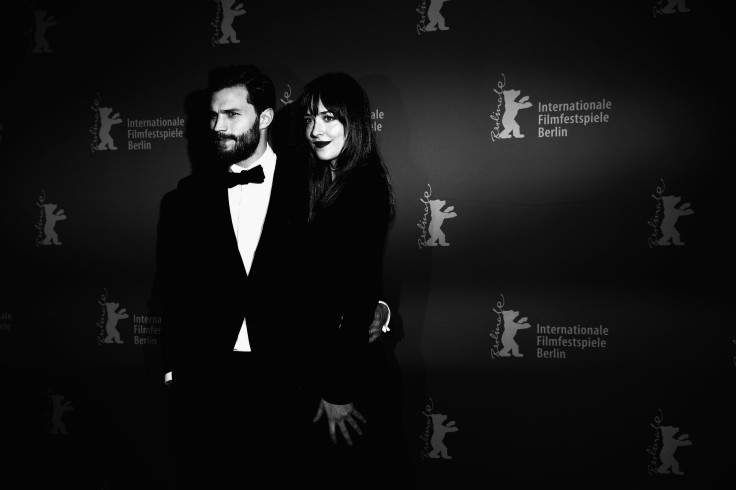 "Fifty Shades of Grey" fans won't get to watch the franchise's first sequel until 2017 but the film's cast has been putting on quite a show for their loyal supporters this week. Several "Fifty Shades Darker" actors have been spotted in Vancouver filming memorable scenes from author E.L. James second book in the erotica series.
One day after Christian Grey actor Jamie Dornan arrived in Vancouver for the "Darker" and "Fifty Shades Freed" sequels he was spotted filming an emotional scene with co-star Dakota Johnson, who plays his lover Ana Steele, Tuesday. Photos from the set show Johnson, 26, running into Dornan's arms and sobbing as his bodyguard Taylor (Max Martini) looks on. The scene was shot outside a building meant to be Ana's job at Seattle Independent Publishing. As fans have noted, the scene is likely after Ana is assaulted by her boss Jack Hyde (Eric Johnson).
After she was photographed sharing an onscreen kiss with Dornan, 33, Dakota Johnson shot another memorable scene from the books on Tuesday. In the novel, Ana accepts Christian's marriage proposal by giving him a keychain that flashes the word "Yes." On set, Johnson was seen perusing a store with a keychain display.
If that wasn't enough to appease "Grey" fans, Dornan and Johnson reunited again on Wednesday to shoot additional scenes. The actors held hands and walk down a street together. Luke Grimes, who plays Christian's brother Elliot, was also present.
Returning "Grey" actors were not the only cast members on set Wednesday, newcomers Bella Heathcote and Eric Johnson were also photographed. On image shows Heathcote standing on a street sporting darker locks. The "Pride and Prejudice and Zombies" actress will be playing Christian's mentally unstable former submissive Leila Williams in "Darker."
"Fifty Shades Darker" and "Fifty Shades Freed," which are shooting back-to-back, started production in Vancouver in February. The movie, which will also film a few scenes in Paris, is due to wrap in July. "Fifty Shades Darker" premieres in theaters Feb. 10, 2017 with "Freed" following in 2018.
© Copyright IBTimes 2023. All rights reserved.