'The Flash' Season 3 Spoilers: Rick Cosnett's Return Teased In New Behind-The-Scenes Photos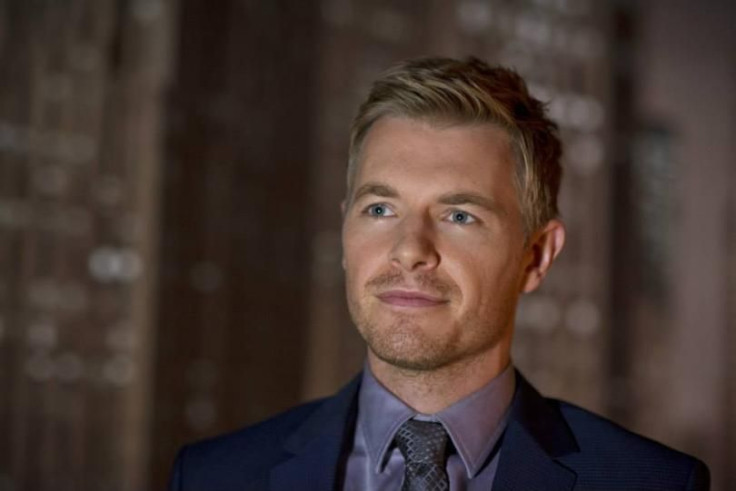 Rick Cosnett is back on the set of "The Flash."
Earlier today, Cosnett shared a couple of behind-the-scenes photos from the set of the CW series, revealing that he has started filming his upcoming comeback episode.
Cosnett's co-star Candice Patton also shared a snapshot with the returning actor, along with Grant Gustin and Jesse L. Martin.
The group photo was taken on the Jitters set of the show, where Patton's character, Iris, worked in Season 1. The Jitters set has hardly been used this season. So does this mean that Cosnett's character Eddie Thawne reappears in a flashback episode? Since Barry's chest-mounted Flash logo isn't seen in the photo, it's hard to determine whether or not that's the case.
In Season 1, that logo had a red background field as opposed to the white one seen in the show's Seasons 2 and 3. But since there have been behind-the-scenes photos in the past that feature Gustin without the detachable chest logo, its absence in the group picture shouldn't be seen as suspicious at all.
Eddie was Joe's (Martin) partner and Iris' (Patton) fiancé. He was one of the first members of Central City Police Department to learn the existence of metahumans. A few episodes after learning Barry's (Grant Gustin) secret identity as the Flash, he was kidnapped by the Reverse-Flash (Matt Letscher), a.k.a. Eobard Thawne, and found out that he was an ancestor of the villainous speedster. To prevent Eobard from existing, Eddie decided to take his life, saving his friends' lives in the process and preventing the evil time-traveler from doing any further harm to Central City and to time itself.
Since his death in the Season 1 finale, Eddie has only appeared once. Cosnett reprised his role in a flashback sequence in Season 2, episode 17.
The air date for Cosnett's comeback episode has yet to be announced.
An all-new episode of "The Flash" airs on Tuesday, Jan. 31 at 8 p.m. EST on The CW. Check out the synopsis and trailer for Season 3, episode 11, titled "Dead or Alive," below:
"H.R.'s (Tom Cavanagh) past catches up with him when a bounty hunter with vibe powers named Gypsy (Jessica Camacho) arrives in Central City to bring him back to Earth-19 to stand trial for his crime. It turns out inter-dimensional travel is illegal on their Earth. H.R. surrenders but when Barry and Cisco (Carlos Valdes) find out that H.R.'s only hope would be to challenge Gypsy to a fight to the death, they intercede and Cisco offers to fight Gypsy instead."
© Copyright IBTimes 2023. All rights reserved.