'The Flash' Season 3 Spoilers: John Wesley Shipp Reveals How He Prepared For His Earth-3 Jay Garrick Role In The CW Series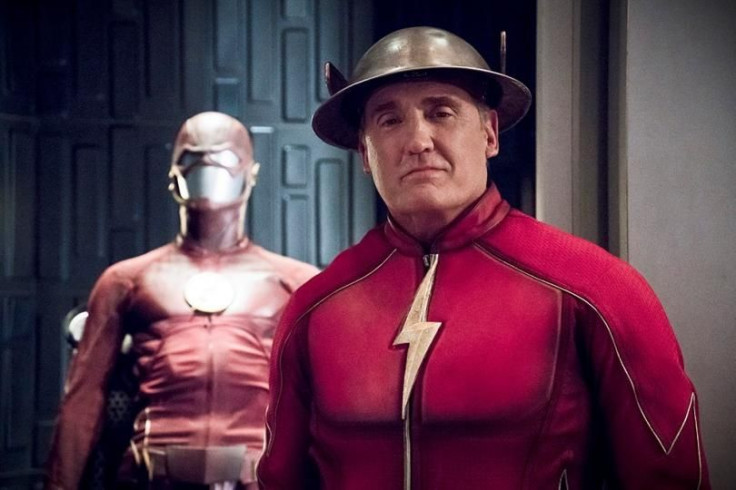 John Wesley Shipp didn't have to look that far for inspiration for his new role as Earth-3 Jay Garrick in Season 3 of "The Flash."
In a recent interview with Comicbook.com, Shipp — who played the title role on CBS' "The Flash" from 1990 to 1991 — said that he considers Jay Garrick his version of Barry Allen that he played more than two decades ago.
"I figured Jay is my version of Barry, 25 years later, essentially," the 61-year-old actor told the website, when asked if he thinks his version of Jay had the same adventures as his version of Barry back in the '90s. "So I went back and I watched a couple of episodes of the 1990/91 version to kind of remind myself what I did."
The "Dawson's Creek" alum said that his Jay Garrick role reminds him more of his version of Barry than his character Henry Allen, which he played in the first two seasons of the CW series.
"[Jay] is much more reminiscent of my Barry Allen from 25 years ago than my Henry Allen," Shipp said. "I went back and I was amazed how much attitude my Barry Allen had in some situations. I went back and I picked up that thread and I brought it forward 25 years, and tried to weave it in. I think that's fun for the audience, too — that they will see elements of my Barry Allen in my Jay Garrick."
Shipp, however, previously admitted that he had insecurities suiting up as a superhero again, but with the support he has received from his co-stars, playing another superhero has become less difficult for him.
"I had a lot of insecurities, a quarter of a century later, putting on another superhero suit," he told Variety last May. "But the entire cast — Tom [Cavanagh] came and talked to me; at one point Grant [Gustin] brought the camera up and turned the monitor around so I could see the way the scene was lit in the suit, and they were all like 'look at this!' Jesse [Martin] was saying, 'I'm so glad that you're doing this.' They really wrapped me in a lot of affirmation and made my insecurities about — a quarter of a century later — playing another superhero a lot easier for me."
"The Flash" Season 3 premieres on Tuesday, Oct. 4 at 8 p.m. ET on The CW. Check out the synopsis for episode 1, titled "Flashpoint," below:
"Barry is living his dream life – his parents are alive, he's asked Iris West (Candice Patton) on a date and he can finally be a normal guy as Central City has another speedster, Kid Flash (Keiynan Lonsdale), running around saving the city. When Barry starts forgetting parts of his old life, the Reverse Flash (Matt Letscher) taunts his nemesis and tells him that there will be serious repercussions for Barry and the ones he loves if he continues to live in this alternate universe. In addition to losing his memories, his powers will also start to fade. When disaster strikes, Barry must decide if he wants to continue to live in this world as Barry Allen or return to his universe as The Flash."
© Copyright IBTimes 2023. All rights reserved.