'The Flash,' 'Supergirl' Musical Crossover To Feature Time Travel? John Barrowman, Victor Garber And Jesse L. Martin Film A 1940s-Themed Sequence [PHOTOS]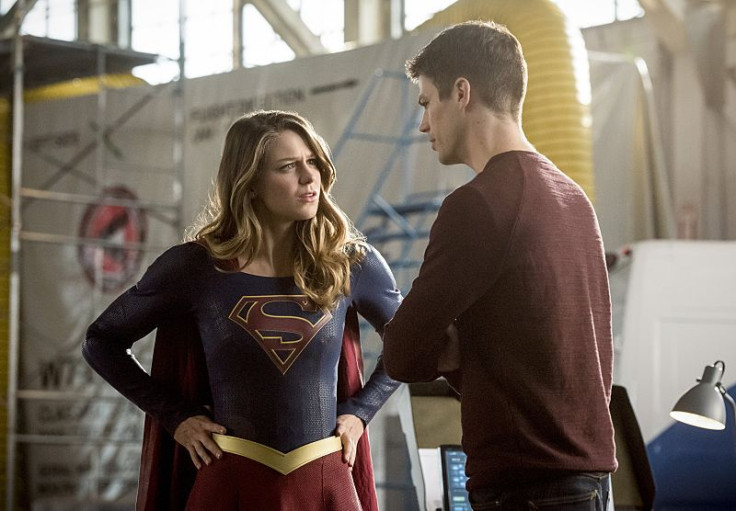 Does the upcoming musical crossover between "The Flash" and "Supergirl" involve time travel?
John Barrowman, Victor Garber and Jesse L. Martin were spotted filming a 1940s-themed "gangsters and guns" sequence for the musical in New Westminster on Saturday, Feb. 11. According YVRShoots, the sequence sees Malcolm Merlyn (Barrowman) coming out of a nightclub with two of his underlings unloading their guns at Joe West (Jesse L. Martin) and Martin Stein (Victor Garber).
The website reported that fans also spotted Melissa Benoist and Grant Gustin in the same location. Benoist reportedly looked like Marvel's Peggy Carter on the set, while Gustin was seen sporting a slick suit.
While the vintage-looking set and costumes suggest that the characters may have embarked on a time-travel journey, the sequence could alternatively be a part of an elaborate period musical performance.
As previously reported, the "Flash" episode of the musical features singing performances from Barrowman, Garber, Martin, Benoist, Carlos Valdes and Jeremy Jordan. David Harewood (J'onn J'onzz) and Chris Wood (Mon-El) will also appear in the "Flash" episode, but both actors won't be singing.
The musical — which finds The Flash (Gustin) and Supergirl (Benoist) facing the villain Music Meister (Darren Criss) — will kick off at the end of "Supergirl's" March 20 episode and will continue the next night in "The Flash's" March 21 episode, titled "Duet," where the bulk of the action takes place.
"The Flash" and "Supergirl" executive producer Greg Berlanti took to Twitter last week to reveal how excited he is for fans to see the musical.
In a series of tweets, Berlanti wrote that hearing all the music for the musical reminded him of how talented the crossover's cast, writers, songwriters and composer are. He also gushed about the other aspects of the musical, including choreography, production and direction. In his final tweet, Berlanti reiterated that there's so much talent in the two-night special event. Read his tweets below:
© Copyright IBTimes 2023. All rights reserved.
FOLLOW MORE IBT NEWS ON THE BELOW CHANNELS