'The Flash,' 'Supergirl' Musical: Grant Gustin, Melissa Benoist On Filming The Crossover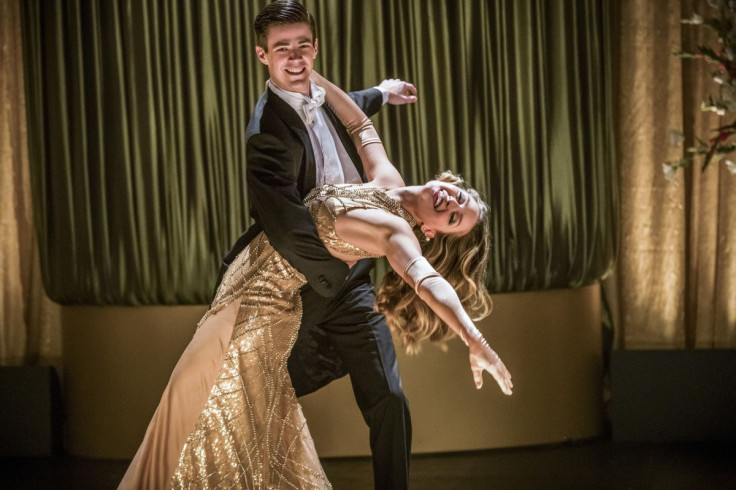 Grant Gustin and Melissa Benoist both had a great time filming the highly anticipated musical crossover between "The Flash" and "Supergirl."
In an interview with Entertainment Weekly, Gustin, who plays Barry on "The Flash," said that the crossover gave him the opportunity to reconnect with his first love, which is tap dancing. "More than anything else, my true foundation was tap dance," the actor said. "[So] it's been cool to get back to it."
Benoist, who appeared on "Glee" along with Gustin, said that she found it surprisingly amusing that she's still got the moves. " It's funny how things stay in your muscle memory," the actress, who plays Kara on "Supergirl," told the news outlet. "It was fun to pick it back up again and see your body and be like, 'Oh, we remember how to do this.'"
READ: What is Iris' role in 'The Flash,' 'Supergirl' musical crossover?
In the first installment of the crossover, villain Music Meister (Darren Criss) attacks Kara and puts her in a coma. Clueless on how they could get her consciousness back, Mon-El (Chris Wood) and J'onn (David Harewood) bring the comatose Supergirl from Earth-38 to Earth-2 to ask help from Team Flash. However, Music Meister surprises Barry in the second half of the crossover and puts him in a similar coma. Barry and Kara then wake up without their powers in an alternate reality where life is like a musical and the only way to escape is by following the script.
"I could not be happier that he's here," Benoist said of her fellow "Glee" alum Criss. "He's killing this role. He's bringing such a fun energy, the way he did on 'Glee' as well."
Criss was also thrilled to have worked with Benoist and Gustin once again, and his joy was pretty apparent in a couple of set photos he shared on Instagram. See below:
As previously reported, the musical kicks off at the end of March 20 episode of "Supergirl" and continues the following night in the March 21 episode of "The Flash," where the bulk of the action takes place.
The "Flash" episode, titled "Duet," features singing performances from Criss, Gustin, Benoist, Jesse L. Martin (Joe West), Carlos Valdes (Cisco Ramon/Vibe) , Jeremy Jordan (Winn Schott), Victor Garber (Martin Stein/one-half of Firestorm) and John Barrowman (Malcolm Merlyn). Although Wood and Harewood guest star in the episode, both actors won't be singing.
© Copyright IBTimes 2023. All rights reserved.