Flavor Flav Opens New Las Vegas Restaurant, Flavor Flav's House of Flavor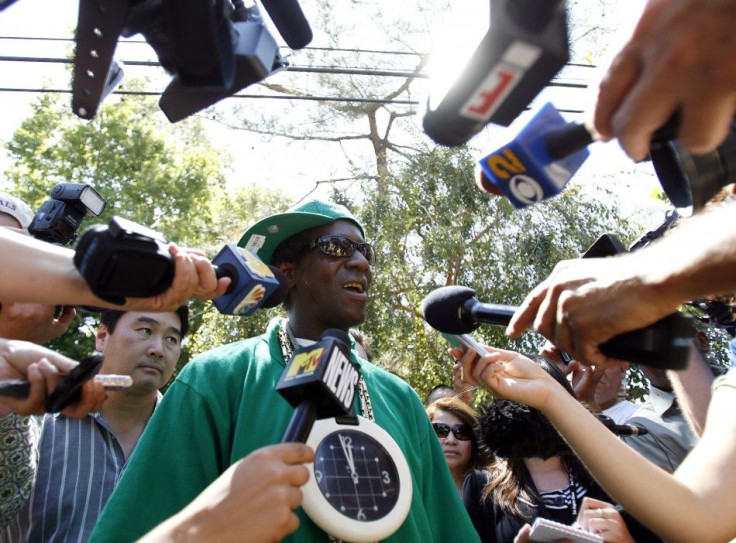 Controversial entertainer, rapper, and reality television star, Flavor Star, opened a brand new fried chicken and soul food restaurant in Las Vegas.
On Thursday, Flavor Flav, whose real name is William Jonathan Drayton Jr., unveiled his new business venture called Flavor Flav's House of Flavor, just a few blocks southeast of downtown Las Vegas.
Everybody loves chicken, Flav told Forbes.com. I figure if Colonel Sanders can make money off his chicken, then Flavor Flav can make money off of his. Plus, I have a household name and I thought I should capitalize off of it right now. And if you come by the Vegas joint, there will be times when I will be cooking and serving my customers.
According to Flav, his chicken will be more flavorful than other restaurant chains such as Popeye's and KFC. However, he refuses to reveal his secret recipe.
[KFC and Popeye's] secret is within the breading, but when you take the breading off the chicken, it just tastes like boiled meat, he said. Now, with my secret recipe, I season the chicken first and then I use unflavored flour to bake it. I let the seasoned chicken season for awhile. So when you bite the chicken it's like a double whammy, taste explosion.
Flav will also be opening a chicken restaurant chain called FFC, or Flavor Flav's Chicken. The first location of the new chain will open up in Detroit next month, with several other locations across the country, reported Forbes.
Flav hosted a ceremony for his opening night.
This is where the flavor is, said Flav, at the ceremony, according to the Las Vegas Sun. He was wearing his signature accessory, a large clock on a necklace. Straight-up flavor, right here.
Flav tried opening up a restaurant in Iowa, however, it closed just after four months.
© Copyright IBTimes 2023. All rights reserved.