Florence and the Machine Cover 'Take Care,' Praise Drake [VIDEO]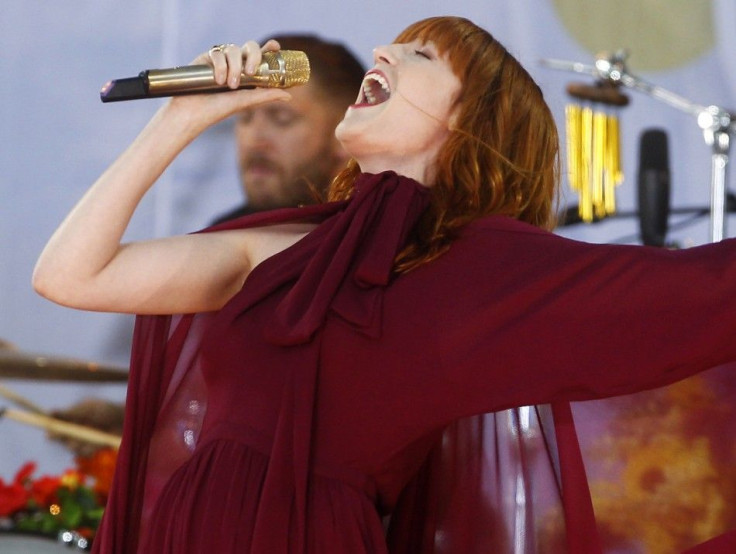 Florence Welch of Florence and the Machine can do just about anything these days, including acting and singing on Saturday Night Live.
Her latest is a stunning cover of Drake's Take Care, which Welch delivered on Friday's Live Lounge session for BBC Radio 1.
Backed by her band and the BBC Radio 1 orchestra, Welch belted out the R&B hit, singing both Drake and Rihanna's parts.
I'm glad to be here. This is pretty exciting because it's a song by one of my, well two of my favorite artists, well three, actually, because it's 'Take Care,' which is produced by Jamie xx, and it's by Drake and Rihanna - three of my absolute favorite artists, Welch told the intimate crowd.
I hope we can do it justice, thanks so much, the 25-year-old said before launching into the slowed down version of the song.
Both Welch and Drake have been riding on the success of their latest releases, Ceremonials and Take Care, respectively.
Despite being leaked one week ahead of its release, Take Care debuted at number one on the Billboard 200 chart.
Co-produced by Jamie xx of the British band The xx, Take Care sold more than 631,000 copies in its first week. Jamie xx's connection carries to Rihanna, who samples a song from The xx on her recently released album, Talk That Talk.
With Welch's rendition of Take Care, fans of both acts have been anticipating for a possible duet in the future.
We haven't actually done any recording together . . . whenever I see Drake, we always just end up kind of hanging out, which is equally fun, Welch recently told MTV News.
I think we're both big fans of each other's work. If we would have the time, it is something I would definitely like to do, but we're both really busy, she added.
During Friday's BBC Radio 1 session, Welch also performed Shake It Out, What the Water Gave Me and other singles from Ceremonials.
Scroll down to watch Florence and the Machine perform Take Care by Drake.
© Copyright IBTimes 2023. All rights reserved.