Florida Crash: How Arson Led to I 75 Pileup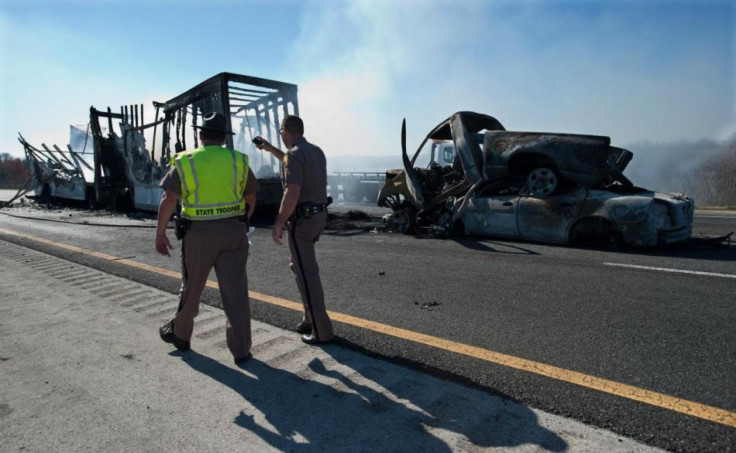 Police suspect that arson may be to blame in the deadly Florida crashes that killed 10 and injured 18. The arsonist started a brush fire that caused so much smoke that it blinded drivers, causing at least 12 passenger cars and seven tractor-trailers to crash on a 20-mile stretch on Interstate 75 and U.S. Highway 441.
Authorities said that they believe the fire to be arson because there were no lightning strikes in the area and no controlled burns, reported Good Morning America. They also said that if that proves to be the case, the person who lit the fire is facing very serious charges. If it were arson, and we could determine who caused the fire, it would be manslaughter, Art Forgy of the Alachua Sheriff's department told ABC News.
Steven Camps, who was involved in a crash on Sunday, called the scene horrendous. As it was happening on the northbound side, it was happening on the southbound side as well, he said. There was nowhere to go, he told CNN. It was just cars hitting cars and cars.
Camps said that he was talking to another car when he saw it literally almost went under [a] semi -truck. We saw that guy die after talking to him before we could even react.
Officials said that the brush fire that caused the Florida crashes began around 3 p.m. on Sunday and mixed with dense moisture coming from marshes, swamps, bogs and lakes, creating a soupy mixture that made it difficult to see. Two crashes shut down I-75 by midnight and from there, it was a domino effect. A Fed-Ex truck burst into flames after it crashed, causing even more smoke, which caused more crashes. Cars went from 70 mph to a standstill in seconds. Many got pancaked under tractor-trailers.
Shands Hospital at the University of Florida received a total of 18 patients, according to CNN, six of whom were in intensive care as of Sunday night.
Rescuers who were on the scene said it was the worst they've ever seen, according to Good Morning America. The visibility was so poor that they could not see victims, and instead, had to listen for moans and screams to find them.
Authorities said that the fire that caused the Florida crashes was controlled, but not 100 percent contained. Fire lines were put into place to stop the fire from spreading, but smoke could linger for weeks. Florida police said that they are investigating the crashes, and will look into the possibility of arson.
© Copyright IBTimes 2023. All rights reserved.