Fly Past Galaxies As Seen By Webb Telescope In Stunning 3D Visualization [Video]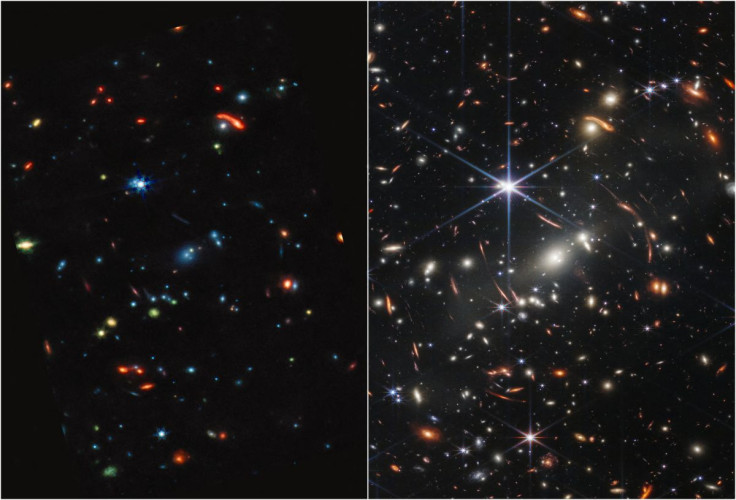 KEY POINTS
The video takes the viewer past thousands of galaxies in the Extended Groth Strip
Its final destination is Maisie's Galaxy, which only Webb can see
The visualization is said to show how the Webb builds off of Hubble
Ever wondered how it would feel like to fly through space, past the stunning galaxies in the universe? A new 3D visualization will let you do just that.
The video, which is a part of the Cosmic Evolution Early Release Science (CEERS) Survey, features the region between the Ursa Major and Boötes constellations, according to a release from NASA. Called the Extended Groth Strip, the region contains some 100,000 galaxies, though the video focuses only on 5,000 of them.
It begins with a stunning view of the galaxies in the region, which at this point still appear quite like bright dots in the vast space. Slowly, the viewer is flown closer to the galaxies, then through them.
Although it seems like quite a smooth and simple "ride" across space, each second actually equates to traveling "200 million light-years into the data set, and seeing 200 million years further into the past."
Finally, the video reaches its final destination — Maisie's Galaxy.
Maisie's Galaxy is said to be the farthest galaxy in the visualization. As an "extremely distant" galaxy, it showcases the James Webb Space Telescope's capabilities.
"It formed about 390 million years after the big bang, or about 13.4 billion years ago," the release said. "It's not only one of the first bright, extremely distant galaxies found by Webb, but it's also an example of an early galaxy that only Webb could see."
Indeed, galaxies like Maisie's weren't visible before, said one of the survey investigators, Rebecca Larson of the Rochester Institute of Technology. But with Webb, the stage is now set for scientists to study such galaxies.
"This observatory just opens up this entire period of time for us to study," Larson said.
It also shows how Webb can build off of the findings of its predecessor, the Hubble Space Telescope, the release noted.
"This observation exceeded our expectations," the principal investigator of CEERS, Steven Finkelstein of the University of Texas at Austin, said. "The sheer number of galaxies that we're finding in the early universe is at the upper end of all predictions."
As the video shows, it also gives us the opportunity to experience space in a rather special way. And, this is only the beginning for Webb, as it's set to celebrate its first anniversary this July. Its predecessor, the Hubble, has been operational for over 30 years, and it's still going.
© Copyright IBTimes 2023. All rights reserved.