France On Fire After Several Days Of Protests
Days of protests across France saw escalations to violence including an apparent assassination attempt of the mayor of a Paris suburb, Vincent Jeanbrun, and the burning of public buildings and transport.
The seventh day of protests are expected to continue today over the shooting of a 17-year old boy named Nahel Merzouk by police on June 30, 2023, at a traffic stop.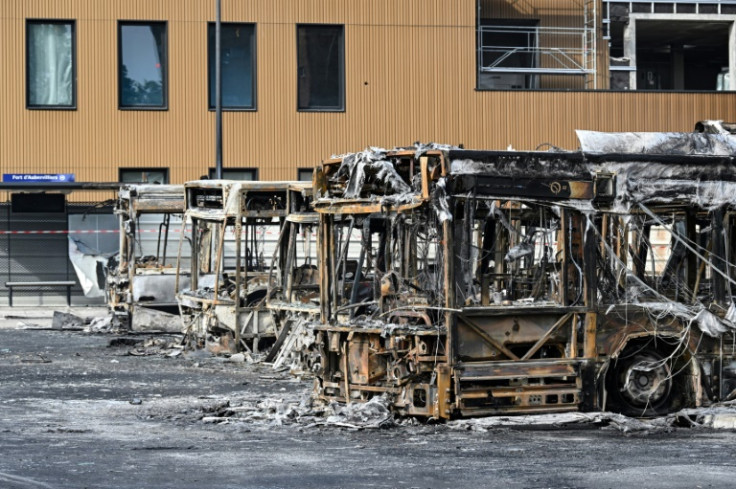 Jeanbrun, mayor of L'Hay-les-Roses, France, was working early Sunday morning in town's city hall. Then, "individuals rammed a car" into his home "before setting fire to it" in order to burn down his home the mayor said in a statement.
The mayor said his wife and children were also inside the home, and were injured while attempting to flee.
During the protests, protestors have also burned public transportation infrastructure and buildings. Within one night, 12 busses at a transportation depot, 79 police posts, and 119 public buildings including 34 town halls and 28 schools were attacked according to French Minister of the Interior Gérald Darmanin. These attacks led to a 9:00 PM curfew on all busses and trains across France.
These protests stem from the police killing of a 17-year old boy, who went by Nahel M., at a traffic stop early on June 30.Tuesday morning. Official police accounts said deadly force was used as the teen was driving at the officer.
Video evidence was released immediately by bystanders, which seemed to disprove the claim. Instead, the video shows two officers standing on the driver's side of the stationary car, with one aiming a gun toward the window. A voice can also be heard stating, "You are going to get a bullet in the head." Shortly after, it appears the cop fires point blank into the vehicle as it drives off, not getting far before crashing.
The officer in question is being detained and is under investigation for voluntary homicide. He has asked the family for forgiveness through his lawyer. The officer said he aimed down toward the driver's leg, but was bumped, which led to the shot hitting his chest instead, and that he never meant to kill the teen.
French President Emmanuel Macron called the killing "inexplicable" and "unforgivable," but has also criticized the protestors. He said the violence was unacceptable and that "these acts are totally unjustifiable."
Thousands of officers have been deployed across the country to control the protests and prevent further violence. Most recently, an additional 45,000 officers were deployed on Saturday to control the unrest.
Macron also seems to blame video games and social media for the violence across the country, stating that many of those involved are young and "intoxicated" by the violence they see, and are attempting to copy this violence.
Although the protests are seemingly dwindling, as police arrested less protestors and arson reports decreased, there are concerns that the current protest will replicate the 2005 protests that placed France in a state of emergency.
François Molins, a former prosecutor for northern Paris, said on Twitter, "I'm worried that we'll go through what I faced 18 years ago, in 2005," where two people fleeing from the police hid in a power substation were electrocuted and died.
Then, the resulting protests lasted for weeks.
© Copyright IBTimes 2023. All rights reserved.