Fresh snowfall causes travel chaos in Europe; Eiffel Tower closed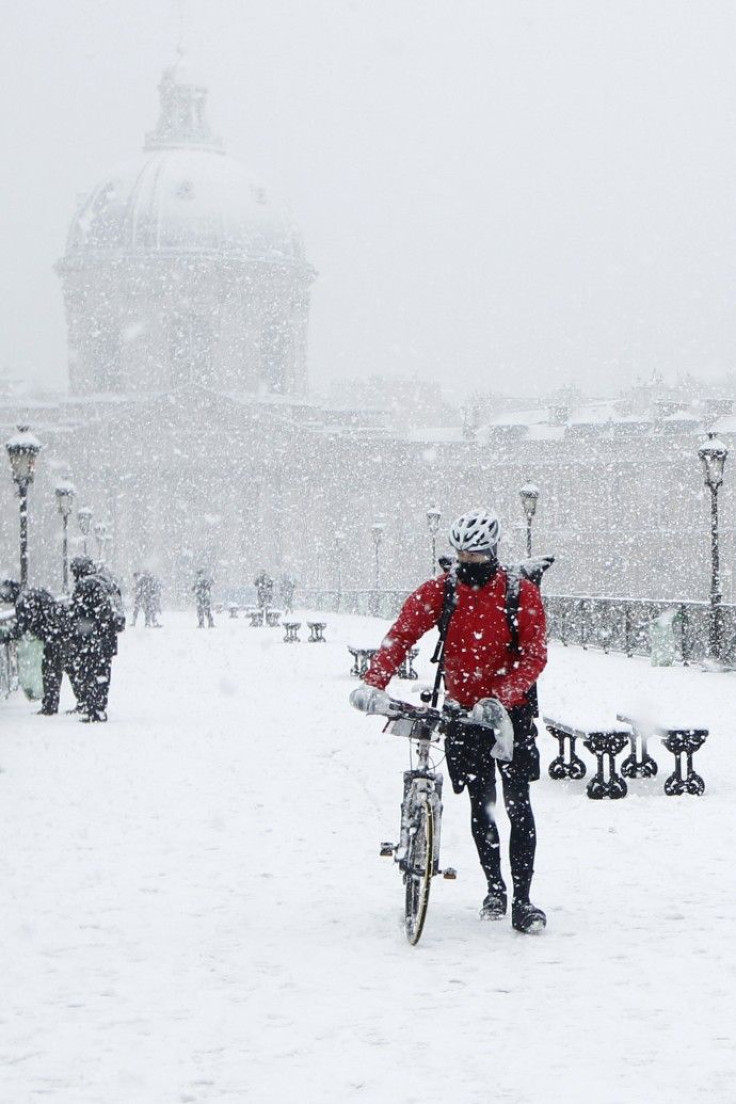 Heavy snow blanketed French skies on Wednesday resulting in fresh traffic disruptions for European travelers after last week's transport shutdown even as storm lashed Portugal and Spain.
Snowfall caused huge travel chaos in France and as well as across Europe forcing the closure of the Eiffel Tower with sub-zero temperatures turning Scottish roads into deadly ice sheets, media reports said.
The main Charles de Gaulle-Roissy airport of Paris was forced to shut down for an hour-and-a-half due to the snowfall affecting nearly 100 flights. Mercury plummeted to a low of minus 18.3 degrees Celsius (minus 1 degree Fahrenheit) in the Scottish highlands. Approach roads to Roissy were also blocked due to snowfall.
France's meteorological service France Meteo said 11 centimetres (four inches) of snow fell in central Paris, the heaviest snowfall since 1987.
One out of five flights was cancelled due to poor weather forecast at the behest of France's civil aviation authority (DGAC) leaving thousands of passengers stranded at the airport.
Orly, Paris's second main airport was also forced to shut down briefly to clear snow from runway though the half-an-hour closure did not affect flights. However, another report said flights were delayed by up to two hours.
Road traffic in Paris was also affected as only a few buses operated and truckers were asked not to use highways until conditions improve. Five thousand police, including 2,000 in the Paris area, were deployed, while officers in four wheel drive vehicles went to the aid of stranded motorists in the Yvelines region west of Paris.
Initially, operators of Eiffel Tower closed the first floor but later closed the whole monument that is one of the world's most visited sites.
Meanwhile, in Portugal a storm tore off roofs, blew over electricity poles, uprooted trees, and carried off cars, injuring a total of 30 people on Tuesday.
Scotland's busiest motorway, the M8, was partially shut due to heavy snow. Train and road services were also affected. Many schools were closed. First Minister Alex Salmond advised motorists not to drive unless essential.
When ice gets onto motorways, salt doesn't dissolve the ice underneath minus 10 degrees Celsius (14 degrees Fahrenheit).... These are just the realities of exceptional weather conditions, Salmond said.
Meanwhile, Edinburgh council is considering seeking army's help to clear snow from streets.
Scotland recorded up to 76cm snow in several parts of capital, while temperature dipped to minus 14.6 degrees Celsius.
In Spain, police found the body of a nine-year-old boy, whose car was swept away by floodwater into the river Alcudia near the south-central town of Almodovar del Campo in the Castilla-La Mancha region. His elder brother and father managed to survive.
His death was the second from the storms that have battered southern Spain and Portugal since Saturday.
The flooding has blocked dozens of roads and forced the evacuation on Tuesday of some 3,000 people in the Andalucian town of Ecija after the river Genil burst its banks.
© Copyright IBTimes 2023. All rights reserved.