'Game Of Thrones' Season 7 Photos Hint At Fan Theories About R+L=J, Arya's Kill List And More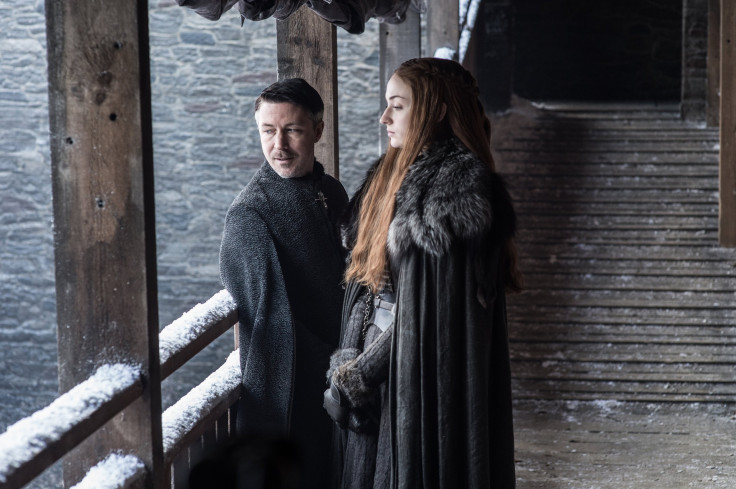 Your prayers have been answered, "Game of Thrones" fans. HBO released 15 stills from Season 7 that speak volumes about what's to come when the show returns this summer.
The photos catch fans up with a number of key players in "Game of Thrones," including the Lannisters (Lena Headey and Nikolaj Coster-Waldau), Jon Snow (Kit Harington), Daenerys Targaryen (Emilia Clarke) and others. While pictures may not tell us quite as much as video could, there seems to be some underlying clues in the set. A closer look at the stills provides seeming confirmation to the R + L = J theory, who's next on Arya's (Maisie Williams) kill list, winter's arrival and whether the Starks will finally find one another.
Here's what we gathered from the photos — theorize at your own risk!
Will Jaime Turn On Cersei?
While many "Game of Thrones" fans seem to believe that Jaime will turn on his twin sister/lover in Season 7 of "Game of Thrones," this newly released photo of them suggests otherwise. In it, the pair are seen standing side-by-side. It's unclear from their expressions how either is feeling, but Jaime appears to be dutifully protecting Cersei as she sits on the Iron Throne.
Gilly May Have A Breakout Moment After All
In November, it was widely reported that the plot of Season 7 of "Game of Thrones" leaked. The alleged outline for the show claimed that Gilly (Hannah Murray) would continue her quest to learn to read while at the Citadel with Sam (John Bradley-West). In doing show, she'll stumble across information about Jon Snow's lineage that is key to the show.
Among the many poignant Season 7 stills is one of Gilly reading while at a table with Sam. She appeared to be shocked by what she's reading, though the text is not visible in the photo. Perhaps she's simply shocked at her own ability, but we're crossing our fingers this photo's confirmation.
Winter's Arrived
For several seasons Jon's been trying to warn the Seven Kingdoms that winter's on it's way. It's been widely reported that the colder season — along with the Night King (Vladimir Furdik) and his undead posse — will arrive in Season 7. Several photos show "Game of Thrones" characters trudging through snow, which is either a sign that they're in the North or Winter has come.
Bran May Finally Reach His Siblings
Bran (Isaac Hempstead Wright) has been trying to no avail to get to Jon, Sansa (Sophie Turner) and Arya (Maisie Williams) since the earliest seasons of "Game of Thrones." Newly released photos show Meera (Ellie Kendrick) pulling him through the snow on a sled. As was stated before, this could either be a sign that winter's arrived in the Seven Kingdoms or he and Meera are getting closer to home.
If the latter is true, "Game of Thrones" fans may have all the confirmation they need for another popular theory. Many believe that Bran — the only one with confirmation of the R + L = J theory based on a Season 6 vision — will be the one to inform Jon that he's really a Targaryen. The pair were reportedly on set together, which only added fuel to that fire.
Power Will Get To Sansa's Head
During an interview with Entertainment Weekly, Turner revealed that Sansa will go on a bit of a power trip during Season 7 of "Game of Thrones." Several fan theories suggested that she'd be left in charge of Winterfell while Jon went out in search of Daenerys, which is likely when said power trip will take place. Season 7 photos show Sansa looking over her kingdom with Littlefinger (Aiden Gillen).
It's not clear why the pair are together, but it's been reported that Littlefinger will attempt to come between Sansa and Arya. In doing so, he'll find himself on the outs with both Stark girls. One fan theory claims that Sansa will order his death and Arya will be the one to kill him.
Tormund And Brienne Of Tarth May Get Together
"Game of Thrones" fans started shipping Tormund (Kristofer Hivju) and Brienne of Tarth (Gwendoline Christie) in Season 6 of "Game of Thrones." The pair never got together, but a newly released photo of the pair has renewed our hopes. While Brienne's face isn't visible in the photo, Tormund appears to be smiling, which "Game of Thrones" fans know is rare.
The Hound And Arya May Reunite
The Hound (Rory McCann) and Arya haven't seen each other since she left him for dead on a cliffside seasons ago. "Game of Thrones" fans learned he was alive and well in Season 6, though he was far from Arya, who made Bravos her temporary home before leaving to make headway on her kill list. The Hound is, as dedicated Thronies will recall, on that list, and it looks like Arya may have her chance at him in Season 7.
One of the many photos released by HBO on Thursday show The Hound sitting atop a horse covered in snow. When last we saw him he was in a much warmer climate. Could it be that he's making his way north?
"Game of Thrones" returns to HBO July 16. Check out all the Season 7 photos HERE.
FOR FREE to continue reading
✔️ Unlock the full content of International Business Times UK for free
offer available for a limited time only
✔️ Easily manage your Newsletters subscriptions and save your favourite articles
✔️ No payment method required
Already have an account?
Log in
© Copyright IBTimes 2023. All rights reserved.