The Gathering Place: Meet The Texas School Pioneering A New Model Of Learning
* This is a contributed article. The IBTimes news staff was not involved in the creation of this article and this content does not necessarily represent the views of IBTimes. When you buy through links on our site, we may earn an affiliate commission. Here are our
T&C
. For licensing please
click
here.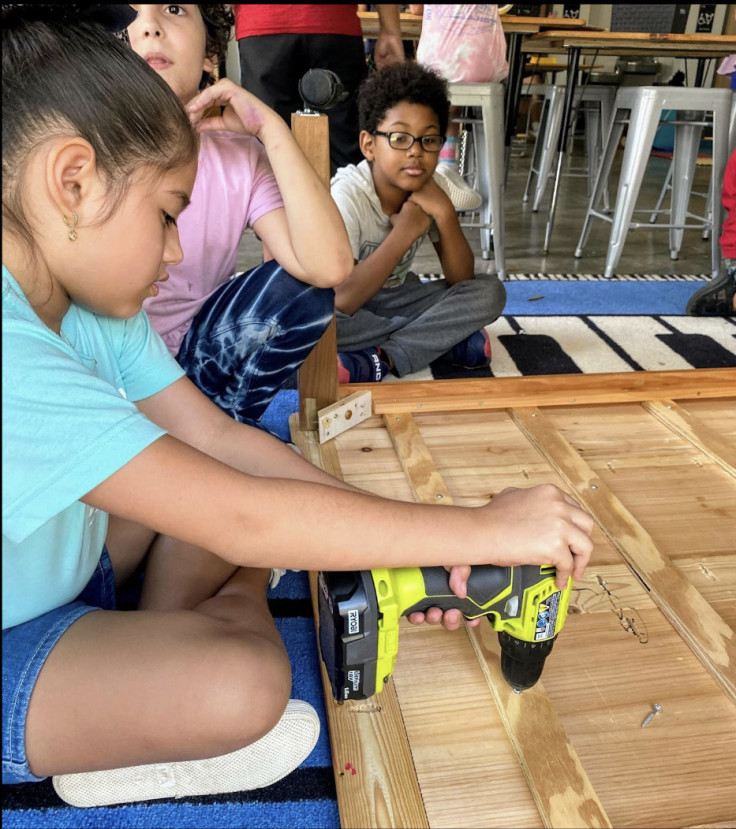 It's a question that many of us will have asked ourselves during a particularly complicated, content-heavy Chemistry lesson on a Friday afternoon, as we stared wistfully out of the nearest window. Depending on which parents or teachers you ask, the answer to this might range from 'to help children secure a good job' to something more philosophical, such as 'to help children develop into loving, rounded citizens'. From the student's perspective, it can often feel as though the answer is simply, 'because we have to'.
Research has shown that when a student says that school is 'boring', this often means that they are one of three things: they might be over- or under-challenged; they might have a limited interest in the subject; or, most crucially of all, they might not 'understand the value of what they are being taught'.
It is an issue that increasingly seems to permeate the US' educational system, with many commentators arguing that the focus of this has become too exam-oriented. As a result, classes are designed in order to help students jump through the hoops that will lead to the highest grade, rather than actively engaging and stimulating their creativity.
The two Co-Founders of The Gathering Place, a San Antonio-based free public elementary school, noticed these problems with the education system a number of years ago. Asia Klekowicz and Ryan York had enjoyed prominent careers in the education sector when the opportunity arose to work together in a project for RePublic Schools in Nashville. They were tasked with the creation of a middle and high school computer-science curriculum and a teacher training program. The success of this project resulted in the largest district-charter partnership in Nashville's history, with Klekowicz scaling the program from a reach of just 250 students to 10,000.
The program revolved around the aim of making the classes as relevant to the students' lives as possible. While typical lessons would be rigid and delivered roughly in the format of a lecture, Klekowicz and York's program helped connect children with cultural and community-based issues that mattered to them.
"We saw the magic that happened when children were actively encouraged to connect with causes affecting their local community through education. Time and again, we'd hear students taking our program saying, "We really love this class - why do we have to go back to normal school?" outlines Klekowicz.
This sprinkled the seeds of a ground-breaking idea into Klekowicz and York's minds. After a series of discussions to flesh out the plans, they decided to take the bold step of creating their own school. This new institution would be created on the foundation of their innovative, hands-on approach to education.
In 2017, Klekowicz and York quit their jobs, and without any funding behind them, began to turn their dream into a reality. Nashville had a cap on new schools opening, so they decided to look further afield. After months of immersing themselves in a series of communities, they settled on the fast-emerging city of San Antonio.
In 2018, the duo moved to Texas, and set about curating their project-based learning curriculum. They fine-tuned this through a series of prototype Summer Camp projects, such as a Social Justice Camp and an Entrepreneurship Camp, through which they highlighted to parents the power of their centering education around specific, meaningful projects, rather than empty, grade-focussed lesson plans.
Once Klekowicz and York had applied to open the new school, they received the highest charter scores and the most board votes out of all the applicants. They subsequently opened their doors in the Fall of 2020, with a founding staff of 50 and 350 students. Since then, they have added 150 students each year, and the workforce has doubled to 100.
Project-based learning has been shown to produce a significant positive impact on student achievement. This approach has long been considered a more effective means of teaching, but it has thus far been limited in its reach by how difficult and complex it is to implement. This is why Klekowicz and York are passionate about offering training programs for other schools and educators, to help them find the formula that the duo have successfully integrated into The Gathering Place.
This is epitomized by the projects that the San Antonio school facilitates. For instance, one kindergarten class was exploring where water comes from. This quickly transformed into a conversation about who in the city has access to clean drinking water, and how fair the disparities in this are. The class decided that they could help tackle this issue by crafting water irrigation systems that reuse and recycle rainwater. The Gathering Place guided them through the construction process, and ultimately incorporated the system they produced onto one of the campus buildings.
"Now, every time one of those students walks past that building, they can look at the water irrigation system and know that they were able to make a real difference through their education. Throughout our teaching, we're very clear in our messaging to students: you don't have to wait for someone else to find a solution. You are capable of doing this now," underlines York.
Which brings us back to that initial, pressing question - what is the purpose of school? One thing's for sure, the students at The Gathering Place are being given a much more fulfilling, rich and rounded answer than most.
Media contact
Name: Ryan York
Email: ryan@thegatheringplacek12.org
© Copyright IBTimes 2023. All rights reserved.
FOLLOW MORE IBT NEWS ON THE BELOW CHANNELS