'General Hospital' Spoilers: Will Esme Blackmail Nikolas After The Latest Hook Killer Attack?
Esme thought she could sneak into Wyndemere to steal money without being caught, but on Tuesday's episode of "General Hospital," Nikolas will disrupt her plans.
In the promo video of the ABC soap opera, Trina (Tabyana Ali) tells Ava (Maura West) that something horrible is going to happen. "General Hospital" spoilers reveal Trina confides in Ava.
In the previous episode, Portia (Brook Kerr) realized the police were wrong to suspect the hook killer was targeting Sonny (Maurice Benard).
Following the latest attack, she realized the mysterious killer was targeting people associated with Trina.
After Esme (Avery Kristen Pohl) secretly returned to Port Charles, Ryan (Jon Lindstrom) suspected his daughter was the hook killer, but she casually denied the accusation.
Esme could be getting revenge after she failed at framing Trina for a crime she didn't commit, or she could have other plans.
Although Trina is unaware of Esme's return, she will have a bad feeling about what will happen next. Will the hook killer strike again?
Elsewhere in the ABC promo video, Esme tells Nikolas (Marcus Coloma) that he will have to try harder next time. "General Hospital" spoilers reveal Nikolas is stopped in his tracks.
In the previous episode, Esme determined she would be able to remain off the grid if she broke into Wyndemere to steal money. However, Nikolas arrives and will catch her in the act.
It appears Esme will have a shocking surprise for Nikolas, which could range from an unexpected pregnancy from their brief affair to a copy of the video of him confessing to her disappearance.
Either way, Esme will have the upper hand. Will Esme use the information to blackmail Nikolas?
Other "GH" spoilers tease Sonny pleads with Michael (Chad Duell), Dante (Dominic Zamprogna) has questions for Dex (Evan Hofer), and Anna's (Finola Hughes) plan suffers a setback.
"General Hospital" airs on weekdays at 3 p.m. ET on ABC.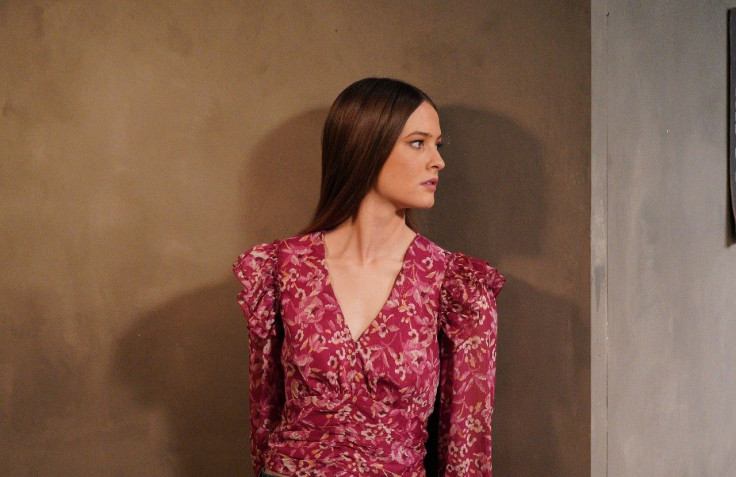 © Copyright IBTimes 2023. All rights reserved.