Gensler Requests Additional Funding To Regulate 'Highly Speculative Asset' Crypto Industry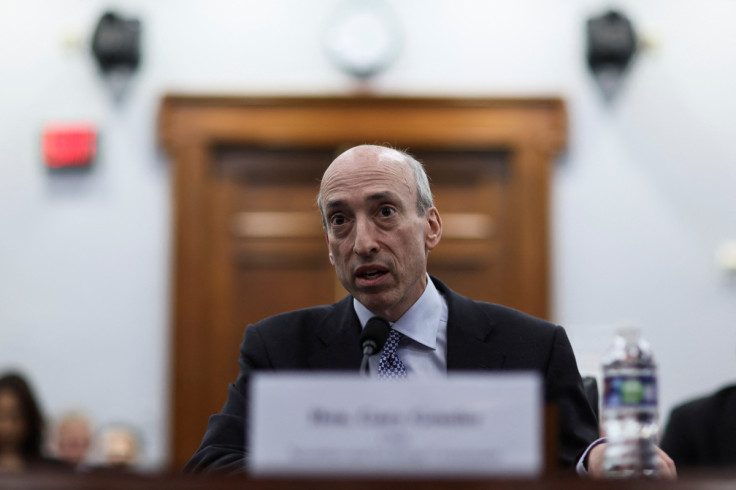 KEY POINTS
Gensler described the crypto industry as "Wild West"
The SEC chair said the agency needs more funding to "meet the match of bad actors"
Sen. Hagerty grilled Gensler Wednesday, asking where the SEC was during the FTX saga
Securities and Exchange Commission (SEC) chair Gary Gensler has asked for additional funding from the U.S. government to aid in the agency's oversight of crypto markets, which he called the "Wild West."
Gensler said in his prepared testimony before the U.S. Senate Committee on Appropriations Wednesday that the SEC seeks to protect investors amid a rapid change in the technology industry, particularly blasting the crypto industry that he said has rampant noncompliance.
"We've seen the Wild West of the crypto markets, rife with noncompliance, where investors have put hard-earned assets at risk in a highly speculative asset class," he said.
"Such growth and rapid change also mean more possibility for wrongdoing. As the cop on the beat, we must be able to meet the match of bad actors," he added.
Gensler also said that the fast growth and innovation in financial markets "has led to misconduct in emerging and new areas, not least in the crypto space." Addressing problems in the said areas requires new equipment, resources and experts, he said.
In the SEC's Division of Examinations, Gensler said the additional funding will help the agency's "first line of defense for the investing public" to address "risks in the crypto markets, cyber and information security and the resiliency of critical market infrastructure."
The SEC needs an additional $72 million to add dozens of full-time staffers to help in the agency's bid to protect the interests of the American public, Gensler said.
The hearing also brought forth questions from lawmakers, with Sen. John Kennedy, R-La., asking Gensler where the SEC was when former CEO of collapsed crypto exchange FTX Sam Bankman-Fried "did everything but buy Mount Rushmore."
Gensler explained that since the FTX was not headquartered in the U.S., it "takes time" to investigate and take action on such cases.
Sen. Bill Hagerty, R-Tenn., said he's concerned that the SEC's "regulation by enforcement" for the crypto industry and the vague rules may be driving innovation and driving business outside the country. The rule set in the U.S. is "anything but clear," he said, adding that the current regulation system in the country is "creating a great deal of uncertainty in the market."
Meanwhile, the SEC continues its crackdown on the crypto sector, with tech and blockchain firm Ripple being one of the biggest stories in the agency's bid to rein in securities it says are unregistered.
The SEC filed a lawsuit against Ripple in 2020 over alleged securities law violations. Earlier this month, a court ruled that Ripple's native token XRP was not a security. Brad Garlinghouse, Ripple's CEO, said the SEC only sowed "confusion in the market" when it filed the lawsuit.
© Copyright IBTimes 2023. All rights reserved.