George Floyd Death: Chaos In Minneapolis, Protests Across The US, Trump Tagged By Twitter For 'Glorifying Violence,' Biden Speaks
KEY POINTS
Protests in Minneapolis resulted in the torching of a police precinct by protesters as marches and other protests took place in St. Paul, Memphis, Denver, New York City, and Los Angeles
President Trump offered military support on Twitter, but was flagged shortly after posting it for "glorifying violence" for saying "when the looting starts, the shooting starts"
Joe Biden spoke about George Floyd's death during a virtual fundraiser, saying that justice should be found for Floyd's family and the officers involved in his death should be held accountable
Cleanup operations were underway Friday in Minneapolis where days of protests demanding justice for a black man who died while in the custody of white police officers led to the torching of a police station, numerous other buildings and looting. The protests against the death of George Floyd spread across the United States, prompting President Trump to offer military assistance to quell them.
Demonstrators set fire to Minneapolis' Third Precinct in southeast Minneapolis around 10 p.m. on Thursday. Department spokesman John Elder said several protesters forcibly entered the building and started "several fires," forcing evacuation of the building. Police warned demonstrators to flee the area after several gas lines leading to the precinct were cut. "Explosive materials" were in the building at the time.
As of early Friday, the building remained ablaze as protesters were gathered around it.
A CNN news crew was arrested around 6 a.m. Friday during a live broadcast. The crew was subsequently released, and Minnesota Gov. Tim Walz apologized to CNN President Jeff Zucker.
The chaotic scene in Minneapolis has since spread across the U.S. as thousands voice their anger over George Floyd's death, along with the deaths of Ahmaud Arbery, in Brunswick, Georgia, and Breonna Taylor in Louisville, Kentucky.
In St. Paul, which abuts Minneapolis, authorities struggled to keep looting and fires under control. At least two stores were set ablaze by protesters who chucked rocks and bottles at police trying to keep protests contained.
In Denver, protesters marched on the Colorado State Capitol in support of Minneapolis protesters. Shortly after the demonstration started, a driver tried to force a vehiclu through the march and attempted to run over a protester.
Several gunshots allegedly were fired into the crowd though a suspect has not been identified. Witnesses said this was followed by police firing rubber bullets and tear gas to break up the protests.
Protesters gathered in New York City's Manhattan borough around 3 p.m. at Union Square and marched on City Hall and Ground Zero, chanting: "No justice! No peace!" -- the mantra popularized after the 1986 death of black man in New York whose car broke down in a white neighborhood in the Queens burough of New York and who had been menaced by a white mob. The New York demonstrators hurled bottles at officers attempting to keep the march under control.
"We don't know the substance that's in the bottle. Everybody assumes water and it could be other substances," a witness told the New York Post. This led to the arrests of around 70 people, including one for criminal possession of a weapon after a protester was found to be in possession of a knife and another allegedly tried to get control of an officer's gun.
Protests also took place in Los Angeles and Memphis, with the latter ending peacefully on Wednesday. Protests in Los Angeles left at least two California Highway Patrol cars damaged on Wednesday, but have since continued without incident.
In response to the escalating violence in Minneapolis, President Trump took to Twitter to offer military support to Gov. Walz while placing some blame for the chaos on Mayor Jacob Frey. However, the tweet was almost immediately flagged by Twitter for violating the platform's rules on glorifying violence.
Since that tweet, 500 National Guard troops have been deployed in Minneapolis and St. Paul.
"Our troops are trained to protect life, preserve property and ensure people's right to peacefully demonstrate," Minnesota National Guard Maj. Gen. Jon Jensen told reporters.
Trump's comments drew Frey's ire.
"Weakness is pointing the finger at someone else during a time of crisis. Donald J. Trump knows nothing about the strength of Minneapolis," Frey told a press conference around 1:30 a.m. on Friday. "We are strong as hell, and you better be damn sure we're going to get through this."
Presumptive Democratic presidential nominee Joe Biden demanded justice for Floyd during a virtual fundraiser Thursday night.
"These tragedies, these injustices cut at the very heart of our most sacred of beliefs: that all Americans, equal in rights and in dignity, are part of an ingrained systemic cycle of racism and oppression that throughout every part of our society," Biden said. "We need to make sure justice is real for the Floyd family. That the protections and the rule of law are real for every American. That officers in the Floyd case must be held accountable, including with the FBI investigation and independent Department of Justice civil rights investigation."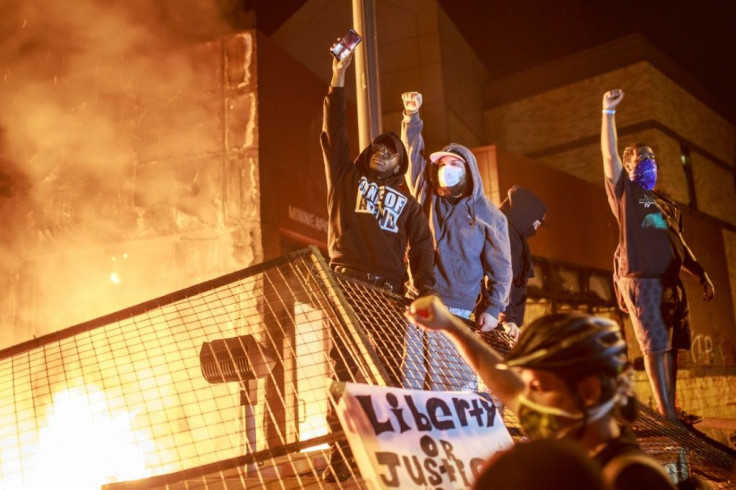 © Copyright IBTimes 2022. All rights reserved.
FOLLOW MORE IBT NEWS ON THE BELOW CHANNELS