George Zimmerman Video: Trayvon Martin's Father Reacts To Footage [VIDEO]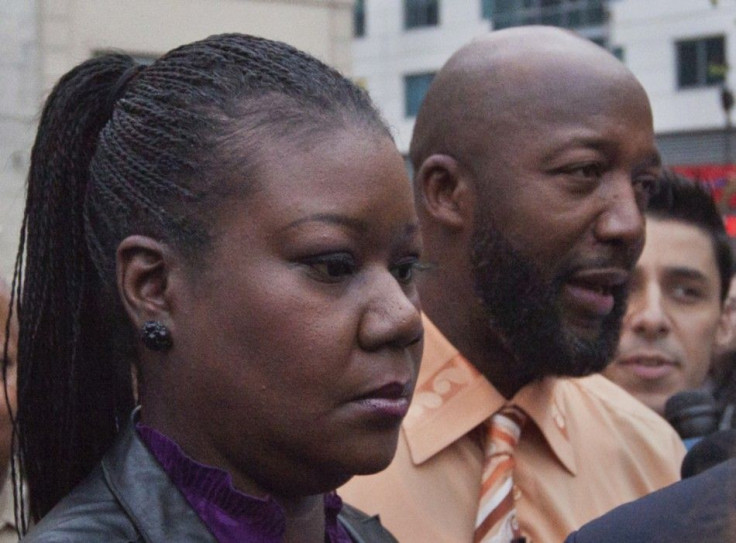 Tracy Martin and Sybrina Fulton, father and mother of Florida shooting victim Trayvon Martin, say the Sanford police came to them two days after the 17-year-old was killed and told them their son had initiated two attacks on George Zimmerman.
Following the release of a videotape that appears to show Zimmerman completely unharmed from the allegedly vicious attack, however, Martin's parents continue to assert their son's innocence, and say the gap between the cops' story and the tape not only hurt Zimmerman's defense but show how poorly the investigation into their son's death was handled by the Sanford police.
'What's your problem, homie?'
According to the detective who informed them of Martin's death, the boy's father told reporters in a meeting Wednesday, Trayvon walked up to Zimmerman's car on the nihgt of Feb. 26 and asked him why he was following him. After Zimmerman denied it and rolled up his window, Martin walked away.
Later, however, when Zimmerman got out of the car, Martin came back, appearing from behind a building in the gated community.
What's your problem, homie? the detective said Martin had asked Zimmerman. The latter replied that he didn't have a problem.
You do now, the teen said, before knocking Zimmerman to the ground, pinning him there, and telling him to shut the f--k up. It was only when Zimmerman managed to get his gun out and shoot Martin at close range that the boy stopped beating him.
You got me, Martin is alleged to have said, before falling backward and dying from his wound.
'That was bull.'
What Tracy Martin claims the Sanford detective told him is almost exactly what George Zimmerman told the cops on Feb. 26, the night Trayvon was shot. It also directly contradicts much of what Trayvon's girlfriend, DeeDee, recounted from her own conversation with the victim moments before he was shot.
And from the moment Trayvon's parents heard the story, both were convinced that the police were holding something back.
That was bull, Tracy Martin said of the explanation given by detectives for his son's death. No way. At that point, I knew there was something terribly wrong.
He grew even more alarmed when police had him identify his son through a crime scene photo, and did not allow him to view his son or release an autopsy report for him.
We didn't see the body until it got back to Fort Lauderdale and he was cleaned up and dressed up for the funeral, Martin told the Washington Post.
Tape Shows No Signs Of Struggle
George Zimmerman's lawyer, Craig Sonner, continues to assert that his client was engaged in a life-and-death struggle with Trayvon Martin. He claims that Zimmerman's nose was broken and his head bashed repeatedly against the ground. Police reports from the night of the shooting also say Zimmerman's nose was bleeding, and that his back was wet and grass-stained.
In a recent video obtained by ABC News, however, George Zimmerman is shown entering police headquarters four hours after the shooting.
Though his red jacket may be hiding blood stains, he appears to be completely unharmed, sporting no bruises, cuts or other signs of injury. And although police say they gave him some minor first aid treatment in the back of a squad car following the attack, Zimmerman was not taken to the hospital.
It just shows that everything that Zimmerman has been saying, that the police have been reporting, is false, Tracy Martin, told USA TODAY as he watched the video Wednesday night.
From what I saw, Zimmerman had no blood on his face, had no grass on the back of his clothes, no cuts on the back of his head.
Sonner's assertion that Zimmerman suffered a broken nose in the altercation is especially suspect, given that the 28-year-old neighborhood watchman showed none of the telltale raccoon eye bruising or swollen glands that such an injury would produce and did not check into the emergency room or visit a hospital following the shooting.
'A conspiracy in the first degree.'
Following the release of the tape, Sonner has argued that the quality of the police footage is grainy at best, and that the first aid Zimmerman received after the altercation explains why he doesn't appear to be injured.
Martin family attorney Benjamin Crump, however, asserts that the videotape and lack of evidence of a struggle before the shooting not only destroys all claims of self-defense for Zimmerman, but also reveals a police force acting in either extreme ignorance or malicious intent.
You're witnessing a conspiracy in the first degree, Crump said. If they don't arrest this guy--there's a conspiracy at this point.
Tracy Martin, who has told NPR that the Sanford Police Department still has some decent police... that don't deserve to be labeled, agrees with Crump that the investigation into his son's death was atrociously handled.
He has begun meeting with Florida State Attorney Angela Corey, who was appointed by the governor to investigate their son's shooting.
After speaking with Ms. Corey, it certainly gives a little more hope than what we had at first, he told NPR. We had no faith whatsoever in the Sanford Police Department.
'That's a slap in the face.'
Tracy Martin has declined to label the shooting death of his son Trayvon by Zimmerman (who is white and Hispanic) as a hate crime.
He continues, however, to argue that Zimmerman's actions were undoubtedly influenced by racial profiling, and to reject the idea that his son would ever have attacked an older, larger man without provocation and without knowing if he was armed.
He's just trying to cover his tail, Martin said of Zimmerman. That's a slap in the face. To have murdered my son, and then turn around and say 'I murdered him because he attacked me,' that's just hard for me to believe.
I think my son was racially profiled, that that was the motive, he continued in the NPR interview. I don't know the mindset of Zimmerman, but from all accounts, from the 911 tapes, it clearly shows he was profiling my son.
Following the release of the George Zimmerman tape by ABC and outside pressure from the community in the aftermath of the Trayvon Martin shooting, the Sanford Police Department has announced that it will no longer take questions from the news media.
FOR FREE to continue reading
✔️ Unlock the full content of International Business Times UK for free
offer available for a limited time only
✔️ Easily manage your Newsletters subscriptions and save your favourite articles
✔️ No payment method required
Already have an account?
Log in
© Copyright IBTimes 2023. All rights reserved.