Get Your Author Picture in Google Search Results in 5 Simple Steps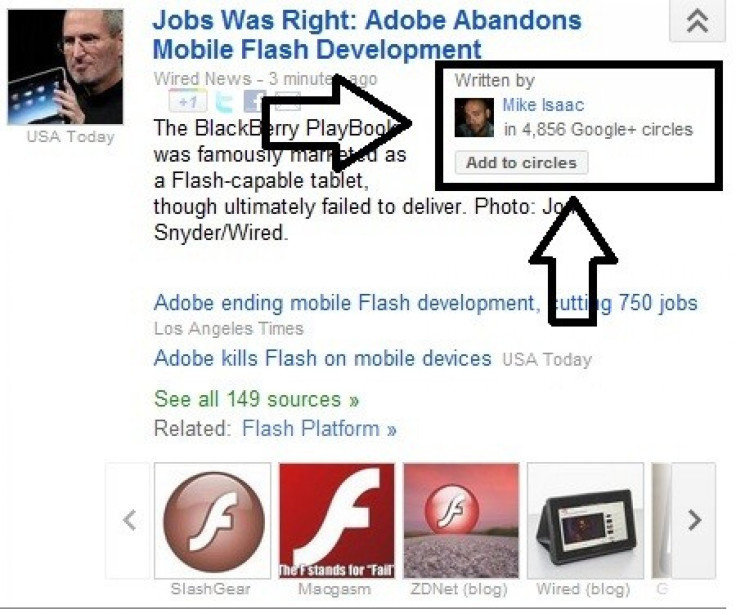 Google has been piloting a search program that displays author information, including their picture and a link to their Google profile directly in the search results. By having one's name and picture displayed in search results, Googlers know that the author is human and socially in-tune, and they know the author is trusted enough to be verified by Google. Verified authors are sure to enjoy higher click-through rates and achieve higher levels of reader engagement.
When Google first launched this program, it was fairly complicated to achieve this setup. Users had to verify author information through their Google profile, but also had to go into the pages they wanted to advertise and embed HTML code so their Google profile and their desired pages linked back to one another.
Recently, Google changed its tune:
Based on feedback from authors and webmasters, we've simplified the process of linking your content to your profile information, Google announced.
Whether you're an author of a blog or a news site, here's how to connect your content so your picture appears in Google search results:
1. Make sure your name and, if possible, your e-mail address appears on each page of content you produce. If you write for a blog you will need to make sure your real name and e-mail address are on the page, otherwise getting your picture in Google will be impossible.
2. Add your e-mail address to your Google profile. If you haven't signed up for a Google profile, do it here. For those who already own Google profiles, log in and click Edit profile on the About page on your profile.
3. Towards the bottom of the page, there will be two options that read Home and Work. Click Work, and add the e-mail address you use on your content pages. Make sure the button to the left of your e-mail address reads Email. Very important: You need to change the visibility of your e-mail address by clicking the option Anyone on the web. Otherwise, Google cannot display your name and picture to the public. Click save, and then click the red bar at the top that reads Done editing.
4. When you've left the editor, the word Verify will pop up next to your e-mail address in blue letters. Click the link and Google will send you a verification e-mail, so just visit your mail and click the link Google provides you. Clicking the link will redirect you back to your Google page, and now you should see check mark next to your Work e-mail.
5. Once you see the check mark next to your Work e-mail on your Google profile, complete Google's authorship request form, which lets Google know that you've followed all of the instructions. Be sure to mention any issues you may have encountered along the way. Click submit, and you're done!
Google will not reply to everyone who fills out the form, and will not notify you if your authorship request has been approved. There are two ways to know if your authorship request has been approved:
1. Routinely check Google and Google News for your name and picture.
2. Use Google's Rich Snippets Testing Tool to see how your individual pages look on Google search. If the tool says it did not find any authorship or rich snippet markup, your authorship request has not yet been approved.
There is a second way to achieve verified Google authorship, but the route involves linking your content to your Google profile and vice-versa, and is much more complicated. Follow these steps below.
First, you'll need to link to your Google profile. One easy way to do it is to use this snippet of code provided by Google, but otherwise you'd have to create a manual link to your Google profile. Use this code: < a href=[profile_url]?rel=author>Google+. Then, replace profile_url with your actual Google profile URL in HTML, which will look like this: < a href=https://plus.google.com/109412257237874861202? rel=author>Google+.
Now that your content is linked to your Google profile, you must link your Google profile to your content. Sign into your Google profile, and click Edit profile. On the right sidebar, you'll see an option that says Contributor To. Click this section, and then click Add custom link. Add your website's link, and then click Save. Google does not say whether or not the visibility of the link needs to be accessible to Anyone on the Web, but clicking this option is probably a safe bet.
Like the other method, you need to fill out Google's authorship request form and note any issues you had implementing the different codes. Click submit.
Google does not say how long it takes for verification to take effect, but several users who have successfully ported their profile pictures to Google search results state the approval process could take up to three weeks. In the meantime, keep checking Google search and use the Rich Snippets Testing Tool to see if the changes have taken effect. If you're still having trouble achieving verified authorship, visit Google's Webmaster help forum and submit your question there.
© Copyright IBTimes 2023. All rights reserved.