'Ghosted' Canceled By Fox After One Season; Amber Stevens West Reacts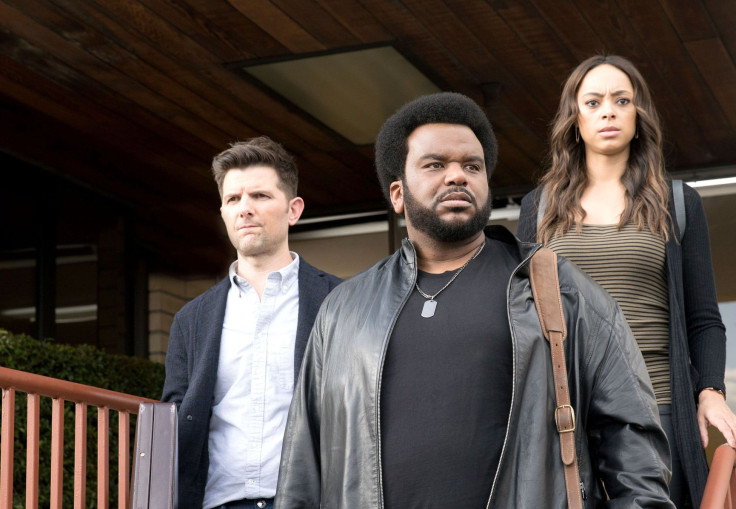 "Ghosted" won't return for another season on Fox.
According to Deadline, the cancellation of the half-hour comedy starring Adam Scott and Craig Robinson in the lead roles had been considered a foregone conclusion, but the network delayed the decision until after the show came back for the remainder of its freshman run earlier this month. Since the options on the cast are set to expire this weekend, the network was prompted to finalize the fate of the series.
"Ghosted was pulled off the schedule in January after nine of its 16-episode first season had run. The series resumed its freshman run on June 10, but was effectively canceled a few days after airing its 13th episode. It remains unclear whether the remaining three episodes will ever see the light of day.
While "Ghosted" premiered with OK ratings last October, the excitement surrounding the series quickly lost steam. According to Variety, the show was never able to gain much traction in the ratings, with Season 1 averaging a 0.9 rating in adults 18-49 and 2.4 million viewers in Live+Same Day.
Scott and Robinson have yet to address the show's cancellation, but their co-star Amber Stevens West has recently taken to Twitter to thank the fans for their support. "Thanks for the love everyone. It was a short but fun ride! Onto the next adventure!" tweeted West, who played Annie on the comedy.
Six of the back seven episodes of Season 1 were overseen by Paul Lieberstein, who replaced original showrunner Kevin Etten, who co-created and exec produced the show's first 10 episodes with Tom Gormican.
Sources told Deadline last November that hiring Lieberstein was part of Fox's plan to change the tone of the show and make it more of a workplace comedy.
"I'll say this: I think it's possible for a bunch of well-meaning people to enjoy working with each other and realize at some point they were each working on different shows. That's what happened with us," Scott told Vulture last March when asked if the show's major tonal revamp suggests that its first 10 episodes didn't work. "Part of it was me thinking we were making a mix of 'Midnight Run' and 'The Twilight Zone,' without considering that everybody might not like 'Midnight Run' or even know what I meant when I said that."
"It just wasn't the show that any of us set out to make," Scott continued. "It's hard when you only have 21-and-a-half minutes to introduce a villain, monster, or any sort of 'case' week after week. There's a reason those types of shows are 42 minutes. You need time to let something marinate. We didn't have time to let it get scary."
What do you think of "Ghosted's" cancellation? Sound off in the comments section below!
© Copyright IBTimes 2023. All rights reserved.