Gold Prices Rise, Eurozone Fears Offset Strong Dollar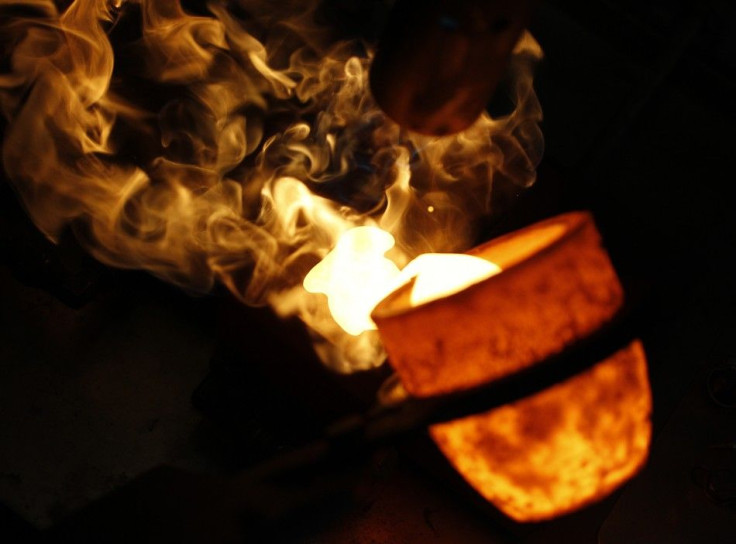 Gold prices rose Friday as concerns about the Eurozone's economy and the health of its banks offset the effect of a stronger dollar.
If gold prices end the session higher it will be the first time since late November that the yellow metal has put together a five-day winning streak.
The U.S. currency reached a one-year high on a widely followed index that tracks the greenback against a basket of major rivals. In early trading it was off 0.16 percent to 81.12 on the index. The stronger the dollar gets against other currencies the more expensive it makes gold for buyers who use other currencies, thus discouraging buying.
But demand for gold as a safe haven is firming as investors weigh prospects of a Eurozone recession and crisis among European banks, especially the large ones holding the sovereign debt of Spain, Italy and even France.
Trading in the stock of UniCredit, Italy's largest bank and a large buyer of Italian sovereign debt, was stopped after shares plunged about 25 percent. Hungary, meanwhile, was forced to pay a stunningly high 10 percent just to borrow money for 12 months.
With the Europe outlook still grim, investors would prefer to put their dollars in some safety assets, such as gold, a Shanghai-based trader told Reuters.
Crude oil prices were rising along with tensions in the Strait of Hormuz, the gateway through which about one-sixth of the world's crude oil supply passes on its way to market. When oil prices rise, it tends to lift other commodities, including gold.
Like prospects of European troubles, tensions with Iran also contribute to a recently renewed interest in gold as a safe haven.
Stocks were mixed in early trading. Tokyo's Nikkei 225 and China's Hang Seng indexes were down but Singapore's Straits Times index was higher. In Europe, Britain's FTSE 100, France's CAC 40 and Germany's DAX were all higher.
In the U.S. futures on the Dow Jones Industrial Average, the Nasdaq 100 and the S&P 500 were all higher in anticipation of a strong December jobs report.
Gold for February delivery was climbed $1.70 to $1,621.80, while gold for immediate delivery rose 80 cents to $1,622.49.
Analysts say the current price gains will be tested at gold's 200-day moving average.
The 200-day moving average at $1,633 is a pivotal challenge and until this is overcome, cautiously optimistic rather than outright bullish sentiment will dominate, UBS analyst Edel Tully said in a note.
One of the more positive takeaways from gold's performance this week though, is its relationship with (euro-dollar ratio); despite the stronger dollar, gold has done very well. It's far too early to tell if this correlation is breaking down, but the early signs are quite positive.
Silver for March delivery slipped 4 cents to $29.26, while silver for immediate delivery was up 8 cents to $29.40.
© Copyright IBTimes 2023. All rights reserved.