'The Good Place' Creator Talks Love Triangle Between Tahani, Jason, Janet
"The Good Place" creator Michael Schur has revealed how they came up with the idea of a love triangle between Tahani, Jason and Janet on the NBC comedy.
In a recent interview with Rolling Stone, Schur said that the complicated romantic relationships between Tahani (Jameela Jamil), Jason (Manny Jacinto), and Janet (D'Arcy Carden) sprung out of their natural character dynamics.
"Tahani and Jason was just us trying to play out character dynamics," Schur said. "Tahani spent her life caring what other people thought of her, and linking herself to Jason represents a sort of rebellion against that. He is also, despite his many flaws, uncommonly kind and loving, as a person — he's intellectually deficient, but emotionally very intelligent, and treats people very well. So a Tahani-Jason link made sense. (It also makes sense because Manny Jacinto is unpleasantly handsome.)"
The idea for a romance between Janet and Jason, on the other hand, started when they decided to reboot Janet, and discussed how she had to re-upload all the information in the universe.
"We had the idea that at a key moment — early on, when she and Jason were roughly at the same intellectual level – they would bond somehow," Schur said. "Jason, who again is incredibly nice and happy all the time, would show Janet a sort of kindness that she was not used to, and it would sort of rewrite part of her internal DNA/code/whatever it is. That mutation within this particular Janet would then become permanent, no matter how many times she was rebooted. It's all a big, fun, weird mess."
While it's unclear who between Tahani and Janet will end up with Jason in the series finale, Jacinto told Vulture last January he doesn't actually know whether he's Team Janet or Team Tahani. "I don't know. At the end of the day, as Manny, I'm just happy to be loved," Jacinto said. "And maybe Jason Mendoza would say, 'I'm just happy to be pounding it out.' I don't know. I can't say what team I'm on."
Apparently, that's completely understandable, as Jamil and Carden are both fond of Jacinto. "Who doesn't want to even just pretend to be romantically linked to the male Angelina Jolie that is Manny Jacinto? So that was already a complete pleasure for me," Jamil told A.V. Club of working with Jacinto. "He's officially the most beautiful person in the whole world, to the point where it's just intimidating. It was great because Manny and I are great friends, so we got to have loads fun and we're very comfortable with each other."
For her part, Carden got excited the moment she found out that Janet's friendship with Jason would turn romantic. "I was, like, 'I get to kiss Manny?' Yeah, I was, like, very into [the new storyline]. Maybe too into it," Carden said (via TVLine).
How about you? Are you Team Tahani or Team Janet? Let us know which team are you on in the comments section below!
"The Good Place" Season 3 is expected to premiere this fall on NBC.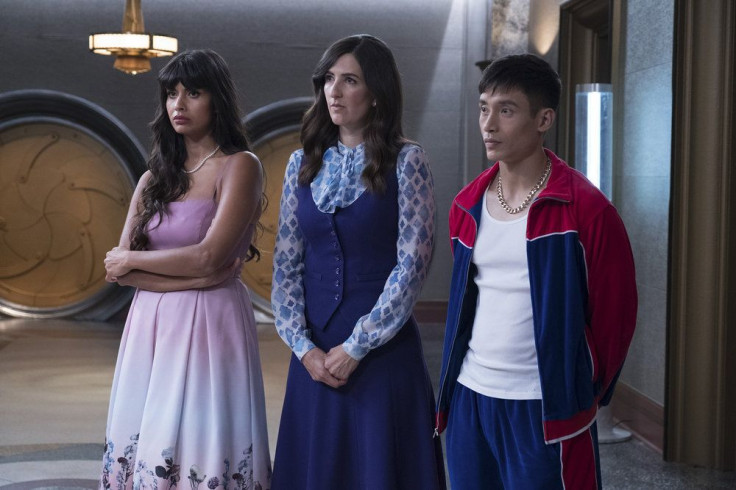 © Copyright IBTimes 2023. All rights reserved.
FOLLOW MORE IBT NEWS ON THE BELOW CHANNELS