GOP Debate 2015: Fiorina Falters After Strong Performances At Earlier Debates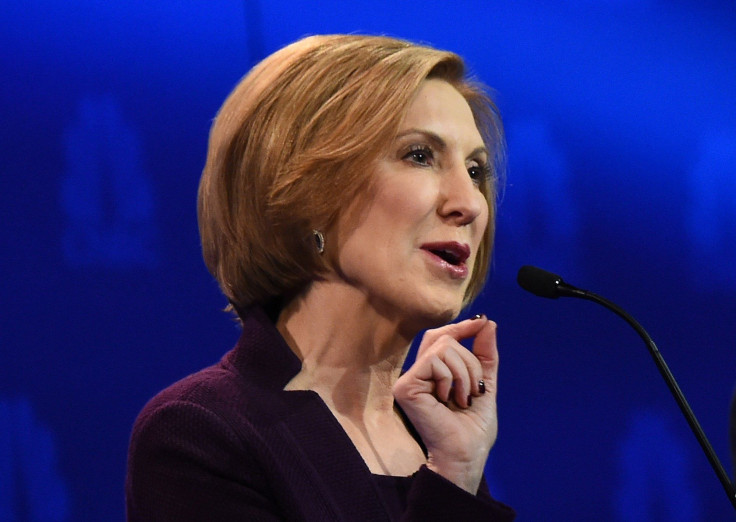 Debates have been a strong point for Republican candidate Carly Fiorina, but on stage Wednesday at the third GOP debate, she seemed to have lost her footing. Pundits noted her lackluster performance, which could hurt her already sinking poll numbers.
"Carly Fiorina's moments are good, but they seem disconnected from the larger narrative of the debate," wrote Daily Caller contributor Matt Lewis on Twitter. Fiorina had some weak moments. When asked about tax reform, the former Hewlett-Packard CEO said that she would like the tax code to be three pages. Moderators pushed back. "Is it really small print?" asked CNBC anchor Carl Quintanilla.
In the last debate, pundits hailed Fiorina as the winner, but any points earned on stage did not help her polling in the long-term. Her performance in the Simi Valley, California, debate last month afforded her a brief boost in the polls, which have fallen significantly since. The CBS News/New York Times poll released Tuesday showed Fiorina at 7 percent of support from likely Republican primary voters, putting her behind Donald Trump, Ben Carson and Marco Rubio. Jeb Bush also shared 7 percent of the vote.
"This is the second debate Fiorina won," Vox concluded after the debate in Simi Valley, California. "She dominated the JV stage in the Fox News debate, forcing CNN to change the rules to ensure she made the main stage in their event. She validated their decision tonight. She had the crispest answers, received the biggest cheers, and proved the only candidate on the stage capable of standing against Trump. She made everyone else on the stage — especially Trump — look unprepared."
Carly Fiorina | PrettyFamous
Ratings in the national polls from Sept. 17 to Oct. 21 determined the candidate line-up Wednesday night. The top-tier GOP debate aired on CNBC at 8 p.m., following a lower-tier debate featuring the bottom of the bunch in the polls, former Pennsylvania Sen. Rick Santorum, Louisiana Gov. Bobby Jindal, former New York Gov. George Pataki and U.S. Sen. Lindsey Graham of South Carolina.
University of Colorado-Boulder was the first college campus to hold a primary debate for the 2016 election.
© Copyright IBTimes 2023. All rights reserved.
FOLLOW MORE IBT NEWS ON THE BELOW CHANNELS