GOP Lawmakers Go Against Trump, Slam Him For 'Pardon' Comment
KEY POINTS
Trump said Capitol rioters should be treated 'fairly' and pardoned for crimes related to the Jan. 6 Capitol riot
Sen. Lindsey Graham slammed Trump's comment as 'inappropriate'
New Hampshire Gov. Chris Sununu said rioters should be held accountable for the insurrection
Former President Donald Trump may have lost several Republican allies after suggesting that he would pardon people charged in the deadly Jan. 6, 2021 insurrection at the Capitol if he is re-elected.
During a campaign-style rally in Conroe, Texas, on Saturday, Trump slammed the criminal prosecutions that people who attacked the Capitol have faced, adding that he will treat them "fairly" should he win the 2024 election.
"If I run and if I win, we will treat those people from January 6 fairly. We will treat them fairly," the former president said during a "Save America" rally. "And if it requires pardons, we will give them pardons. Because they are being treated so unfairly."
Trump's comments drew flak from several Republican lawmakers.
On Sunday, Sen. Lindsey Graham, R-S.C., said he disagreed with the former president's suggestion of pardon and called his idea "inappropriate."
"I think it's inappropriate. I don't want to reinforce that defiling the Capitol was OK," Sen. Graham said on CBS's "Face the Nation."
"I don't want to do anything that would make this more likely in the future," he added.
Sen. Susan Collins, R-Maine, also criticized Trump's suggestion and indicated that she is unlikely to support the former president if he makes another bid for the presidency in 2024. Collins is one of seven GOP senators who voted in favor of convicting Trump for inciting the riot.
"I do not think the president should have made -- President Trump should have made that pledge to do pardons," she told ABC News' "This Week."
Gov. Chris Sununu, R-N.H., was also asked whether he thinks people who were part of the Capitol riot should be pardoned during an appearance on CNN's "State of the Union."
"Of course not. Oh my goodness, no," the governor replied. "The folks that were part of the riots and, frankly, the assault on the U.S. Capitol, have to be held accountable. There is a rule of law."
More than a year since the insurrection, the Department of Justice has charged more than 750 people with crimes related to the riot.
At least 165 individuals have pled guilty while 70 are currently receiving their sentences or having their cases adjudicated, according to an update by the Justice Department.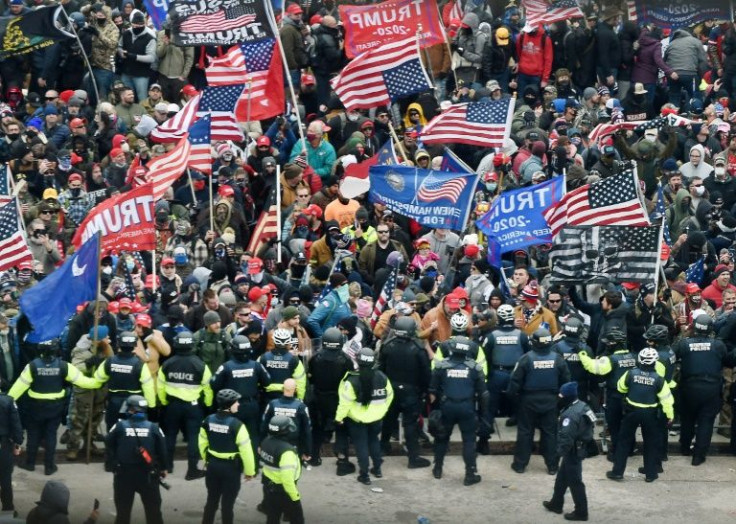 © Copyright IBTimes 2023. All rights reserved.
FOLLOW MORE IBT NEWS ON THE BELOW CHANNELS