GOP Primary Report: Rand Paul Should Focus On Senate Re-Election, Insiders Say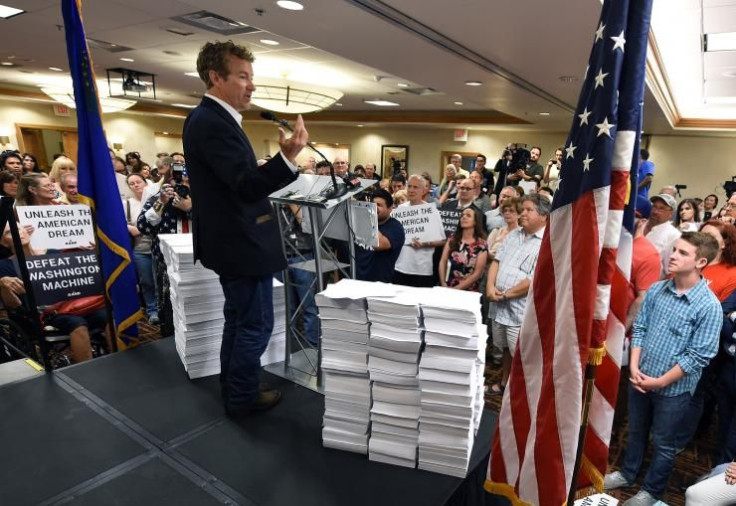 UPDATED 6 p.m. EDT: Sergio Gor, campaign communications director for Rand Paul, said in a statement to International Business Times: "While some try to generate false narratives the only real measure remains a recent vote by the party that fully supports Senator Paul running for both offices; Kentucky Republican leadership continues to express their support as evidenced by 75 percent voting in favor of allowing Senator Paul to run for both offices."
Original post:
Rand Paul should dedicate more time and energy to winning re-election to his U.S. Senate seat than he has done recently, according to Republican Party insiders who have raised concerns that Paul's focus on his presidential campaign is putting his chance of returning to Washington as a senator at risk. "He could lose both positions," Patricia Vincent, chairwoman of the Graves County Republican Party in Kentucky, told the Associated Press. "He just needs to work a little bit more to make sure he still has a seat in the Senate."
The AP report came after a memo released by the Paul campaign Thursday that dispelled rumors the candidate is set to drop out of the presidential race. CNN/ORC polling data this week showed Paul with support of just 4 percent in South Carolina and only 2 percent in Nevada.
"I wanted to support him because he's the real deal, but his strategy is just awful," said Gary Heavin, a businessman in Texas. "He is going to be a very, very effective senator."
Heavin accompanied Paul on a three-day humanitarian trip to Haiti in August. The businessman said at the time that if he were "confident in [Paul's] ability to influence the process," he would donate more than $10 million to the candidate's campaign. Since then, this optimism appears to have faded. "Rand's missed his opportunity," Heavin told AP.
William Wethingon, chairman of the Casey County Republican Party in Kentucky, said that going by the numbers, Paul should focus on the Senate. "I can't see what he's holding out for," he said.
However, not everybody seems to believe Paul needs to worry about his Senate seat. His team noted the senator has a near-perfect attendance record in the legislative body, and Damon Thayer, the majority floor leader of the state Senate in Kentucky, pointed out that Paul doesn't even have a Democrat opponent yet. "Nobody thinks that his seat is in jeopardy," Thayer said.
GOP insiders have called on Paul previously to focus on re-election to the Senate. Politico in September reported on a survey of a number of insiders, operatives and strategists: 22 percent of New Hampshire respondents said they thought Paul would be the next presidential candidate to drop out of the race. "[Paul] has to consider when it's time to cut bait and focus on running for re-election to the Senate," one source said.
Rand Paul Presidential Candidate Profile | InsideGov
© Copyright IBTimes 2023. All rights reserved.