'Gotham' Season 2 Spoilers: Executive Producer Teases Can't-Miss Finale Closing Scene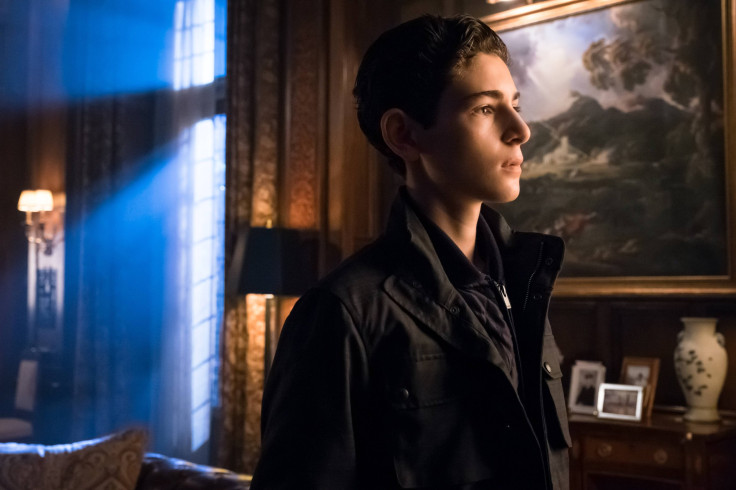 "Gotham" Season 2 has been loaded with villains, death and characters coming back from beyond the grave. So fans can expect the season to wrap up in a similar manor, only two characters might really not be coming back.
We'll find out at the very end, apparently. Executive Producer John Stephens told TVLine that fans won't want to miss the final scene of Season 2. Whatever is going to happen will "change the nature" of Gotham City. He also added that "two lives will be in limbo" when all is said and done.
"It's a development that is in line with all the other story we've been telling, but one piece that we've kept hidden," Stephens dished.
A major part of Season 2 has been the revival of fallen villains. Theo Galavan (James Frain) was resurrected in episode 18 and he's expected to make his debut as Azrael in episode 19. It has also been revealed that Fish Mooney (Jada Pinkett Smith) will be back before Season 2 is completed. Could one of these villains put one of the show's heroes in danger, like Bruce Wayne (David Mazouz) or Jim Gordon (Ben McKenzie)?
Bruce now knows that Hugo Strange (BD Wong) is the mastermind behind the murder of his parents. Gordon wants to take Strange down for Bruce, but the two are going to have a very tough time of it. Mr. Freeze (Nathan Darrow) has already proven to be a loyal soldier to Strange, while Theo as Azrael could be even more of a threat.
In an interview with ComicBook.com last week, Mazouz said the end of the season will have all the good guys teaming up with one another to take down a "big bad guy." This means that Bruce, Gordon, Lucius (Chris Chalk) and Alfred (Sean Pertwee) are all going to have to work with one another.
"I think when Bruce comes back from being on the streets there's going to be a new major bad guy at the end of the season who is starting to emerge," Mazouz dished. "And because of that, all the characters are going to be sucked in and involved in some way. It's incredible."
It's also possible that some of the show's beloved villains could be the ones in trouble. Penguin (Robin Lord Taylor) was the one responsible for the downfall of Fish, so she could be looking to settle the score with him. We also don't know what will happen to Edward Nygma (Cory Michael Smith) inside of Arkham Asylum.
Watch a promo video for episode 19 below:
"Gotham" Season 2 airs Mondays on Fox at 8 p.m. EDT. What do you think will happen in the Season 2 finale? Sound off in the comments section below!
© Copyright IBTimes 2023. All rights reserved.
FOLLOW MORE IBT NEWS ON THE BELOW CHANNELS