'Gotham' Season 2 Spoilers: The GCPD Tries To Extinguish The Firefly In Episode 6; What Happened To Bridgit Pike? [RECAP]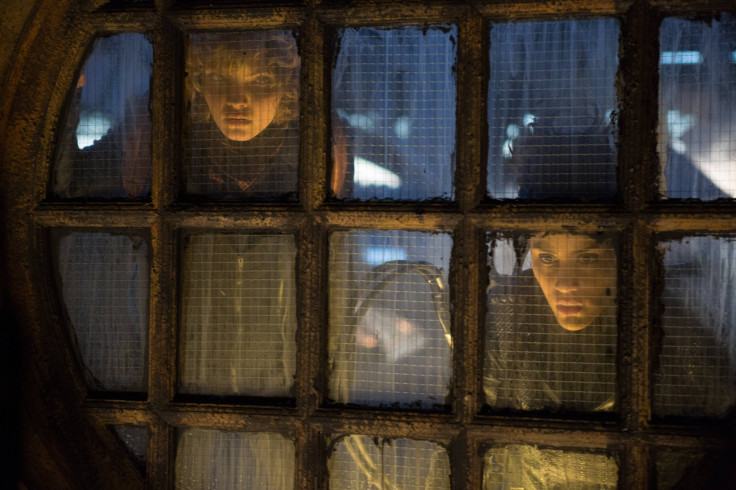 Detective Jim Gordon (Ben McKenzie) and the strike force are out for justice after one of the Gotham City Police Department's newest officers was burned to death last week by Firefly on Fox's pre-Batman drama "Gotham." Bridgit Pike (Michelle Veintimilla) learned the hard way in episode 6, titled "By Fire," that if you play with fire, don't be surprised if you get burned.
Gordon took to the streets of Gotham City with a head full of steam trying to track down who burned Officer Luke Garrett (Lenny Platt). Gordon tries to beat answers out of a known arsonist, while two members of his strike force say he's breaking the rules of conduct.
Bridgit is staying with Selina (Camren Bicondova) because she has nowhere to go after killing an officer. Selina wants to get her out of town, but first they have to steal some money. Selina decides to knock off pimps who are selling women to men in a warehouse. With some help from Bridgit and her flamethrower, Selina is able to collect a bag full of money and the two get out of the building quick and make a run for it.
The strike force reports Gordon to Capt. Barnes (Michael Chiklis), who tells Gordon not to cross the line with suspects. While getting yelled at in Barnes' office, Gordon gets a lead on the Firefly. Barnes shows him a video of Selina and Bridgit's robbery and Gordon recognizes Selina.
Selina tells Bridgit which bus to take out of town, and as the two goodbye to each other, the Pike brothers show up in their van, grab Bridgit and drive away. Thanks to some help from Bullock (Donal Logue), Gordon tracks down Selina and kicks open her door just as she's getting her things together to go get Bridgit. Gordon talks to Selina and promises to protect Bridgit, but he needs to know where to find her.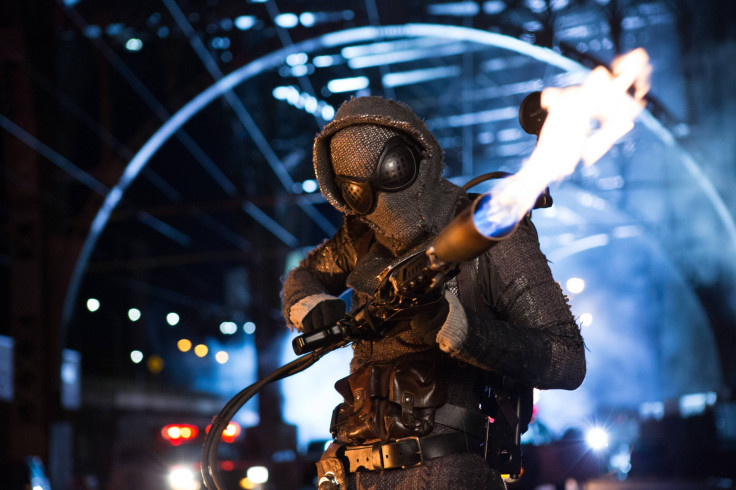 Joe (Leo Fitzpatrick) and Cale Pike (Ari McKay Wilford) take the money Bridgit had, they throw small fireworks at her and tell her that if she ever tries to leave them again they'll kill her. Bridgit decides she's had enough of the way they treat her. She puts on her fireproof gear and kills both of her brothers with her flamethrower.
Gordon and Bullock go to the Pikes' place and discover the burned brothers. Gordon reports back to Barnes and tells him he told Selina, his informant, that he'd protect Bridgit, but Barnes doesn't want to hear it. She killed three people and Barnes wants her brought to justice.
Selina finds Bridgit, who's not herself anymore. She knows Bridgit killed her brothers and she tells Bridgit she needs to not be crazy because she'll get herself killed. Bridgit starts to view herself as a sort of vigilante and wants to get back at people who bully others. Selina sees that talking to her won't help so she hugs her friend goodbye. Selina tips off Gordon that Bridgit is at a warehouse where women are being sold; she's burning men who are selling them while setting the women free.
Outside the warehouse, Gordon and the strike force arrive ready to stop Bridgit. Gordon tries talking to her to get her to surrender, but Bridgit doesn't want to go to jail. She keeps shooting off her flamethrower in Gordon's direction. One officer fires a shot at her, which clips the fuel line to her flamethrower. Bridget lights a car on fire and it explodes, which sets fire to her suit through the leaking fuel line and she gets burned.
Selina is waiting at Lee's (Morena Baccarin) to hear from Gordon what happened to Bridgit. He tells her Bridgit is not going to make it and Selina starts to cry and says she never should have trusted a cop. He knows she didn't act on her own and wants to know who put them up to it, and Selina reveals Penguin (Robin Lord Taylor) was the one who hired them. She leaves and tells Gordon to never talk to her again.
Bridgit ends up surviving but is taken to an underground lab called Indian Hill at Wayne Enterprises, where it appears they do experiments on people. It looks like Firefly will return again someday, but what kinds of experiments will they do on her?
Other Major Moments From Episode 6
Nygma (Cory Michael Smith) had been making great progress with Ms. Kringle (Chelsea Spack), but it all came crumbling down. After they took their relationship to the next level, Nygma tells Kringle that he killed her ex-boyfriend. She's now terrified of Nygma and tries to leave his apartment to get away from him. Nygma grabs her by the throat and covers her mouth when trying to explain things to her, accidentally killing her and leaving him devastated with another body on his hands.
Bruce Wayne (David Mazouz) has dinner with Theo Galavan (James Frain), Tabitha Galavan (Jessica Lucas) and Silver (Natalie Alyn Lind). Following dinner, Theo tells Bruce he knows bad things are going on at Wayne Enterprises and once he becomes mayor he wants to help Bruce tackle the problem head-on. Bruce thanks Theo and agrees to let him help, as Theo continues to draw Bruce closer.
The now one-handed Butch (Drew Powell) is able to convince Theo to let him come work for him after Penguin went crazy. However, Theo soon realizes Butch is still working for Penguin and he has Tabitha whip him around. Butch is able to find out where Penguin's mother is and he's able to escape back to Penguin. Once Penguin gets the news from Butch, he gets a bunch of his men ready to go retrieve her.
© Copyright IBTimes 2023. All rights reserved.