'Grand Theft Auto' Meets Google Glass: How To Stream 'GTA' GPS Straight To Your Google Glasses
Most Google Glass hacks have exposed security weaknesses and privacy concerns with Google Inc.'s (NASDAQ: GOOG) smart glasses, so it's nice to know that some Google Glass hacks are designed just for fun. Android developer Mike DiGiovanni showed TechCrunch how Google Glass could be used as a second screen device by streaming the GPS interface from the popular "Grand Theft Auto" video game in real time to the Google Glass eyepiece.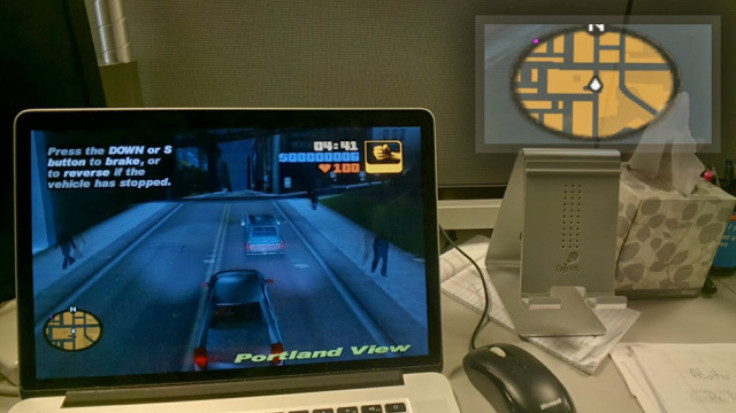 But everyone who owns Google Glass and "GTA V" -- the overlap between those two groups has to be pretty high, right? -- and who wants to hack their devices for an easier way to navigate around the streets of Los Santos, should hold on a minute. DiGiovanni's hack requires a version of the game that runs on PC, and "GTA V" is still limited to consoles. DiGiovanni couldn't get "GTA 4" to work on his computers, so the hack is actually built from the 2001 release of "GTA 3."
A custom Google Glass app captures the portion of the PC screen where GTA's in-game GPS is displayed and sends this to Google Glass via Wi-Fi. A Google Glass app picks up this information and displays it on the eyepiece.
DiGiovanni told TechCrunch that the process runs about 10 frames per second and makes it possible to drive around the streets of GTA by only looking at Google Glass.
DiGiovanni plans to release it eventually but has some technical obstacles to overcome first. Connecting the two apps via Wi-Fi depletes the Google Glass battery in just an hour. The Google Glass app was also built with the software development kit used to make apps for Android devices, so DiGiovanni wants to wait until Google releases an official Google Glass SDK to finish the app.
Even if it's a long time before game developers take advantage of it, this Google Glass app inspires some awesome ideas for the potential of using wearable technology as a gaming second screen. Google Glass displaying your radar during a Halo death matches? What about turn-by-turn directions from your iWatch to the nearest safe house to hide from cops in GTA 6? Now that would be awesome.
© Copyright IBTimes 2023. All rights reserved.