Grant Gustin, Melissa Benoist Admit Having 'Glee' Déjà Vu Vibes While Filming 'Flash,' 'Supergirl' Musical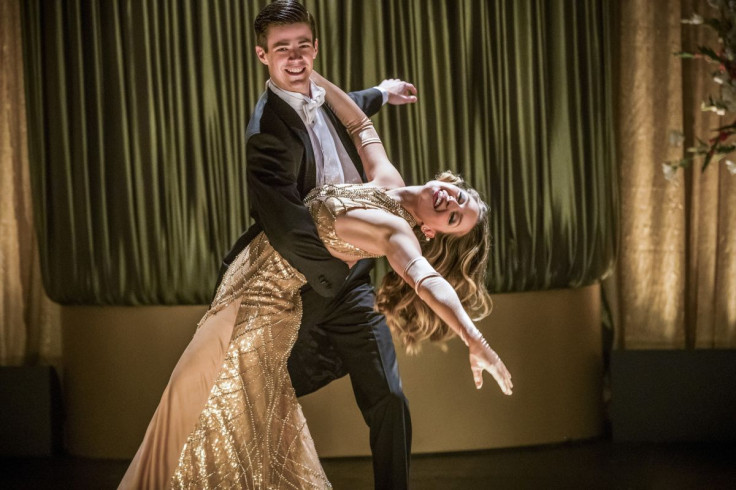 Grant Gustin and Melissa Benoist felt like they were doing an episode of "Glee" when they filmed their song and tap dance number for next week's "The Flash" and "Supergirl" musical crossover.
"It just feels so familiar," Benoist told Entertainment Tonight during the news outlet's visit on the Vancouver set of the musical. "We have Zach Woodley — who choreographed on 'Glee'— back again, and I guess during a dance rehearsal, he was using our characters' names from 'Glee.' He was like, 'Now Blaine goes to Marley...' So it's funny."
Benoist played Marley Rose on the FOX musical dramedy, while Darren Criss — who plays villain Music Meister in "The Flash" and "Supergirl" musical — portrayed Blaine Anderson.
READ: What is Iris' role in "The Flash" and "Supergirl" musical crossover?
Gustin, who appeared as Sebastian Smythe on the Lea Michele-led show, also admitted that the preparation and the actual filming of the "The Flash" and "Supergirl" musical was a lot like his previous "Glee" experience.
"It's kind of similar to the 'Glee' fashion that I have done back in the day," Gustin said. "Yesterday, we did an hour-and-a-half tap rehearsal and now we're shooting it today. I didn't know. They were just like, 'Yeah, we're shooting this tomorrow.' I was like, 'What?! We're shooting this tomorrow? OK… great.'"
Apparently, the musical crossover event between "The Flash" and "Supergirl" isn't just a "Glee" reunion. The musical also reunited Gustin and Chris Wood, who both attended Elon University in North Carolina, as well as Criss and Carlos Valdes, who both graduated from University of Michigan.
"It's been a very sentimental crossover on so many levels," Criss told Entertainment Weekly. "Every day, every scene my mind is being blown. I can't believe I'm here with Melissa Benoist and Carlos Valdes. 'How do you guys even know each other? Oh, that's right, you're both superheroes!'"
As previously reported, the first installment of the crossover sees Music Meister attacking Kara and putting her in a coma. Clueless about how they could wake her up, Mon-El (Wood) and J'onn (David Harewood) bring the comatose Supergirl from Earth-38 to Earth-2 to ask help from Team Flash. However, Music Meister surprises Barry in the second half of the crossover and puts him under a similar coma. Barry and Kara then wake up without their powers in an alternate reality created by Music Meister where life is like a musical and the only way to escape is by following the script.
The crossover event kicks off with Season 2, episode 16 of "Supergirl," which airs on Monday, March 21. It continues Tuesday night in Season 3, episode 17 of "The Flash," where the bulk of the action takes place. Both episodes air at 8 p.m. EST on The CW.
© Copyright IBTimes 2023. All rights reserved.