'Great News' Spoilers: 'Glee' Alum Jayma Mays To Guest Star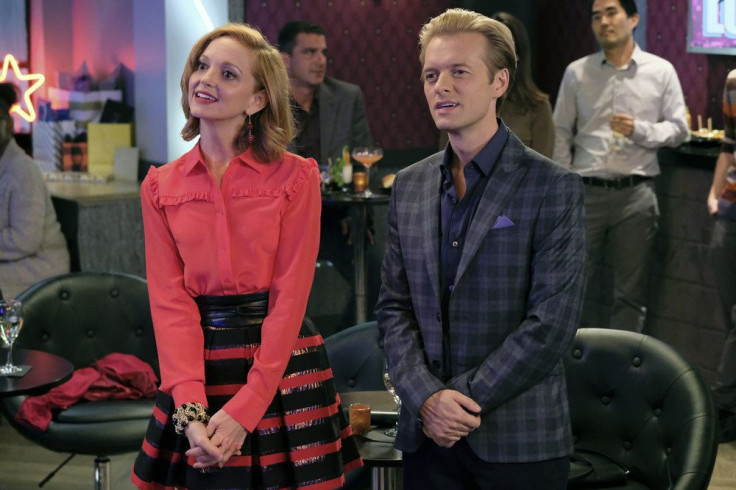 Jayma Mays has landed a guest-starring role on NBC's "Great News."
Mays is set to appear as Greg's (Adam Campbell) girlfriend Cat in Season 2, episode 10, titled "Catfight," which is scheduled to air on Thursday, Jan. 4, 2018 at 9:30 p.m. EST. According to the synopsis for the episode, Carol (Andrea Martin) invites Cat to work in an attempt to show Katie (Briga Heelan) her competition and get her to admit her feelings for her boss.
As seen in the promo photos for the episode, Cat drops by "The Breakdown" headquarters to surprise Greg for his birthday. The crew then celebrates Greg's birthday at a karaoke bar, where Katie and Carol show off their singing chops. The birthday boy and his girlfriend also perform a duet together.
Mays appeared to have filmed the episode last October, as the actress was featured in a number of social media posts shared by the show's regulars at the time.
Casting Mays in the role of Cat isn't that surprising as the actress is Campbell's real-life wife. Mays and Campbell met on the set of the comedy film "Epic Movie" in 2006. They got married in October 2007 and welcomed their son Jude in August 2016.
Mays is best known for her role as Emma Pillsbury on the Fox musical series "Glee" and for voicing the character Grace Winslow in "The Smurfs" film series. The 38-year-old actress is set to reprise her role as prosecutor Carol Anne Keane in Season 2 of NBC's "Trial & Error."
Mays is just one of the several actors who are set to appear as guest stars in upcoming episodes of "Great News." In Season 2, episode 7, Will Sasso will guest star as Chuck's estranged son Petey. Series creator Tracey Wigfield told Entertainment Weekly that the Petey is a "gross dirtbag who invented wine for dudes." "Each bottle was kissed by a playmate," explained Wigfield. "It was made in vats of electric guitars underneath a rollercoaster, and the flavors it came in were, like, black and grey."
Judith Roberts is also set to appear as Carol's mother in Season 2, episode 9, in which Carol learns that her parents are getting a divorce after 70 years of marriage.
Are you excited to meet Mays' Cat on "Great News"? Let us know your thoughts in the comments section below!
© Copyright IBTimes 2023. All rights reserved.