Groupon Disclosure, Growth Concerns Hit Stock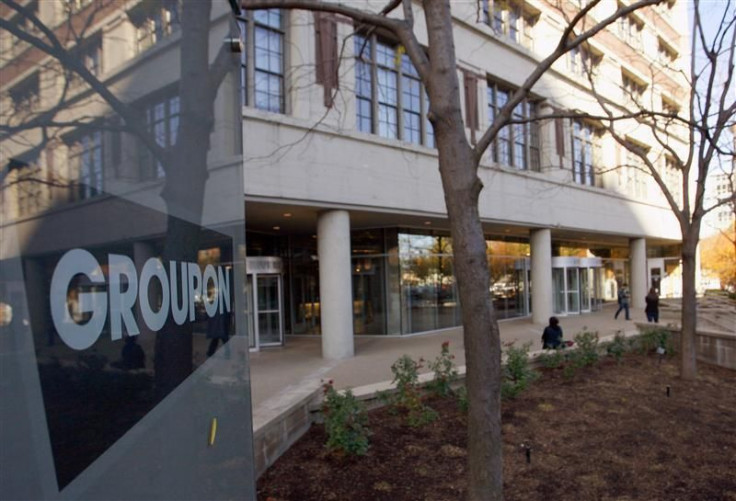 (Reuters) - Groupon Inc shares slumped Wednesday as the daily deal company's first quarterly results since it went public stoked concern about limited disclosure and slowing growth.
Groupon reported an unexpected fourth-quarter loss from a huge tax bill, most of which will likely not be repeated.
While the tax bill caught Wall Street's eye, analysts were more unsettled by signs that Groupon's breakneck pace of growth from recent quarters may be slowing, especially in North America, its most mature market.
Groupon also did not disclose some metrics that the company had reported in filings last year for its initial public offering, some analysts noted.
There weren't a lot of details on metrics that Groupon provided in the past, said Aaron Kessler, an analyst at Raymond James. There may be some frustration with this. A lack of details is never a good thing.
Groupon shares slumped 15 percent to $20.90 in after-hours trading following the results.
As a private company Groupon was one of the fastest-growing businesses in history. However, it was criticized for big losses, heavy marketing spending and aggressive accounting in the run-up to its IPO last year.
In early November, Groupon pulled off one of the largest Internet IPOs of the past decade, valuing the company well over $10 billion. But analysts and investors are still concerned that consumers may be getting tired of the company's discount coupons and some merchants are not running more than one Groupon deal.
GROWTH CONCERN
On Wednesday, Groupon reported fourth-quarter gross billings of $1.25 billion. That was up about 8 percent from the third quarter.
In the third quarter, gross billings jumped 25 percent from the previous quarter to $1.16 billion. Gross billings is a closely watched measure of how much money Groupon collects from deals it runs, before the company shares a chunk of that cash with participating merchants.
Billings were lighter than expected, said Ken Sena, an analyst at Evercore Partners.
LESS DISCLOSURE
Kessler of Raymond James said Groupon used to break out gross billings for North America and International, but the company did not do so for the fourth quarter.
That made it difficult to gauge whether Groupon's domestic business grew more slowly than its international operations, Kessler explained.
Kessler said previous disclosures on the number of Groupon coupons sold in a quarter and the number of merchants waiting to run deals were also not reported in the fourth-quarter results.
Groupon also changed a metric it had used to report user growth, introducing a new unit called active customers, which equals the number of users who have bought a coupon at least once in the past year.
In previous regulatory filings, Groupon had disclosed two distinct metrics: cumulative customers - the number of users who have used at least one coupon since the service began - and subscribers, the total number of users who receive Groupon's emails.
A Groupon spokesman said Wednesday that the company no longer discloses its number of subscribers.
TAXING RESULTS
Groupon said its fourth-quarter net loss attributable to common stockholders was $42.7 million, or 8 cents a share. That compares with a loss of $378.6 million, or $1.08 a share, a year earlier.
On an adjusted basis, Groupon reported a fourth-quarter loss of 2 cents a share. Revenue was $506.5 million, up 194 percent from the final quarter of 2010.
Groupon was expected to make a profit of 3 cents a share on revenue of $475 million in the fourth quarter, according to Thomson Reuters I/B/E/S.
Groupon paid $35 million in taxes during the quarter, for an effective tax rate of 1,600 percent. That was driven by income generated in some countries outside the United States and tax provisions related to Groupon's new international headquarters in Switzerland.
This makes us a good corporate citizen, said Chief Financial Officer Jason Child. But he added that the company's tax rate in the future will likely be about 33 percent.
One thing that stood out was the tax, said Jeff Houston, an analyst Barrington Research Associated. That raised my eyebrows.
Such surprises may be a symptom Groupon's youth, Houston said. The Chicago-based company was started in late 2008.
It may take another quarter or two for investors to get more confidence and get more comfortable with management, the analyst added. The daily deal space is so new and the company is only 3 years old.
POLE-DANCING DEALS
Groupon founder and Chief Executive Andrew Mason has defended his company vociferously against its many critics in recent months.
Plenty of analysts dialed in to hear how Mason, one of the industry's more colorful CEOs, would fare on his first earnings call, a personal milestone for the 31-year old.
The call may have disappointed those familiar with the sight of an underwear-clad Mason doing yoga - there was a video floating on the Internet of just that last year. But the CEO still showed some of his usual sparkle.
Mason took most of the call in a flat tone as he plowed through financial results, talked up his company's growth potential and soberly laid out Groupon's plans to staff up on engineers.
Later on the call, Mason said Groupon is working on new features that will help customers personalize the offers they get and avoid coupons they don't want.
'Please stop sending us pole-dancing deals,' Mason said, deadpan. That's been a much requested feature.
© Copyright Thomson Reuters 2023. All rights reserved.