Groupon IPO on Hold: A Daily Deal Too Good to Be True?
ANALYSIS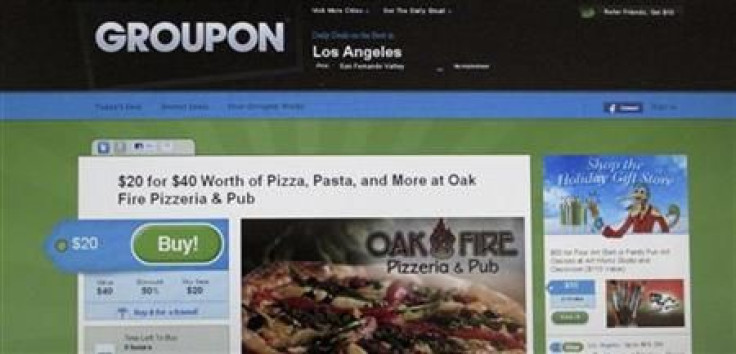 Faster growth is predicted in the next several years for Groupon and other daily deal companies, but the hot Internet space that taps into consumer appetite for cheap food and drink, spa services, yoga lessons, sports tickets and other offerings has its limits, according to new research.
Media research firm BIA/Kelsey reports that revenue in the U.S. from online discounts will top $4.2 billion by 2015, up from previous forecasts for $3.9 billion -- resulting from red-hot daily deal demand as other companies including Google and newspaper publisher Gannett.
But growth beyond 2015 is expected to level off as the space matures, the firm's research showed.
One industry analyst agrees.
The deal space is on solid footing, Peter Krasilovsky told Chicago Business. There are more people continuing to sign up for deals even as existing customers level off their buying activity. We don't believe deals are going away. But we don't believe it's becoming a daily buying habit.
Groupon, based in Chicago, is the industry leader that got it all started. The company has accrued some $639 million in revenue through the first half of the year and has been marching toward a highly-anticipated IPO on Wall Street, but last week that took a turn toward delay.
Groupon canceled a roadshow scheduled for next week in advance of a planned IPO, and is re-evaluating plans to take the company's stock public.
The news wasn't a total shock to Wall Street, considering CEO Andrew Mason has been hailed for being a young genius -- but recently he has been a bit on the defensive side about Groupon's prospects and profitability.
Mason founded the company in his 20s, and while he has done a remarkable job of launching the company (in 2008) and growing it into a red-hot online company that has sold millions of deals all over the country, he has also shown some an almost naive sensitivity whenever pushed in subject areas he didn't like, including Groupon's profitability.
For instance, Groupon sailed into its highly-anticipated IPO in a tech bubble 2 type of environment, prepared to lead the company into a monster IPO valuing the company at as much as $25 billion. But paperwork filed by Groupon stated that the company is profitable.
But that's because Groupon, under Mason's order, used an accounting method frowned upon on Wall Street. The company had marketing costs that weren't being booked according to the manner Wall Street wanted: When Mason later fixed the problem and Groupon resubmitted its numbers, it appeared the company was not profitable after all, it was apparent the rub got Mason the wrong way.
And now as Tech Bubble 2 has cooled on Wall Street amid market volatility due to domestic and global growth and debt concerns, Groupon has canceled the pre-IPO roadshow the company was to begin next week and The Wall Street Journal says Groupon is now re-evaluating its IPO altogether.
Last year, Google offered Groupon $6 billion in a buyout bid, but Mason turned that down. He may one day wish he could get that deal back, since his latest debacle may have clipped Groupon's IPO chances and the company's valuation by billions.
The reason for Mason's sensitivity goes like this: Groupon is not as hot as it once was, facing stiff competition from LivingSocial, Amazon and even other parties like Google and local and regional newspapers getting in on the daily coupon act. The company's business model is not exactly hard to replicate.
Also, Groupon is reportedly running low on cash, counting on the IPO to bolster the bank account, and tensions have apparently been rising the company's Chicago offices -- where everything was once smelling like roses fertilized with dollars.
So the story goes that Mason, on edge, fired back at critics in an internal e-mail that was leaked to AllThingsD, a tech Web site owned by the Wall Street Journal. Not only did the leak apparently break SEC rules limiting what company executives can say before an IPO, it also revealed Mason to be more childlike than leader-like.
While we've bitten our tongues and allowed insane accusations (like in the article above) to go unchallenged publicly, it's important to me that you have the context necessary to brush this stuff off, Mason reportedly said in the memo, among other things, to thousands of company employees, according to AllThingsD. Mason was speaking in response to a newspaper article that suggested the company is running out of cash.
Nobody ever said getting a billion dollars on Wall Street is easy, though lately it has looked that way for successful IPOs including Pandora, LinkedIn, and Zynga. But apparently Mason never got that memo.
Now, one observer called Mason's company-wide e-mail move the botch-up of the century.
Another critic penned an article for TechCrunch titled, Why Groupon is Poised for Collapse. The writer, entrepreneur Rocky Agrawal, argues to small business owners that they are taking a risk signing up to do deals with Groupon because if the company collapses -- and he makes a good case that it might -- a lot of small merchants could be left holding the bag.
Groupon could still get its IPO launched as long as the SEC doesn't get Mason for a quiet-period violation, and if the company thinks the market has settled beyond current volatility to be kind at launch. But it's starting to look like Mason's lack of experience caught up with him just as he and the company were about to cross the big payola finish line.
Mason is getting snippy for good reason. Like the daily deals the company sells, what's here today isn't always there tomorrow. The daily deals space remains hot, and will be for a few more years, but Groupon probably should have cashed in sooner, since the competition is getting stiffer and Groupon the industry only as several more years of robust growth.
© Copyright IBTimes 2023. All rights reserved.