Gun Violence 2016: Increased Number Of Weapons Confiscated In New York Schools, Report Says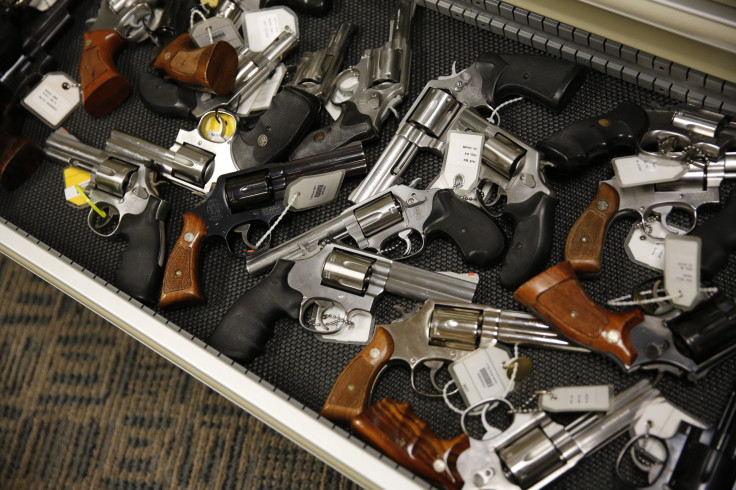 Amid a national conversation over the prevalence of guns in U.S. society, a New York-based pro-charter school advocacy group released a report Friday stating that the number of guns and other weapons the New York Police Department had to confiscate from public schools in 2015 rose sharply from the year before, the Associated Press reported.
In the 2014-2015 school year, the NYPD seized 1,678 weapons, compared to 1,508 in the preceding year, Families for Excellent Schools said. Of all the weapon types, Tasers and stun guns saw the biggest increase in New York City schools, with four being seized in 2013-2014, and 62 being seized during 2014-2015.
"Our city is in a crisis of school violence," Families for Excellent Schools CEO Jeremiah Kittredge told the New York Daily News in a statement. "But the Department of Education still has no plan to address it."
Some 13 guns were confiscated in last year's school session, up from 10 in the year prior, as well. Knives also made a 30 percent increase in the 2014-2015 school year, with 873 recovered.
Weapons recoveries had actually dropped in three of the four years prior to 2014-2015, the group said. New York City Department of Education spokeswoman Toya Holness told the AP that the schools in the city have a zero tolerance policy on weapons.
In the past week alone, two children were said to have brought guns into schools in the Queens neighborhood of Jamaica. A school went into lockdown Thursday after a teen brought a loaded .38-caliber handgun into the building. An 11-year-old brought a .380 semiautomatic weapon into a public school earlier in the week.
Gun violence has continued to plague the city. During the first five months of 2015, there was a 19.5 percent increase in homicides, the Daily News reported. Of those victims, 72 percent died as a result of gun violence.
© Copyright IBTimes 2023. All rights reserved.