Gym Class Heroes grow up, get serious on new album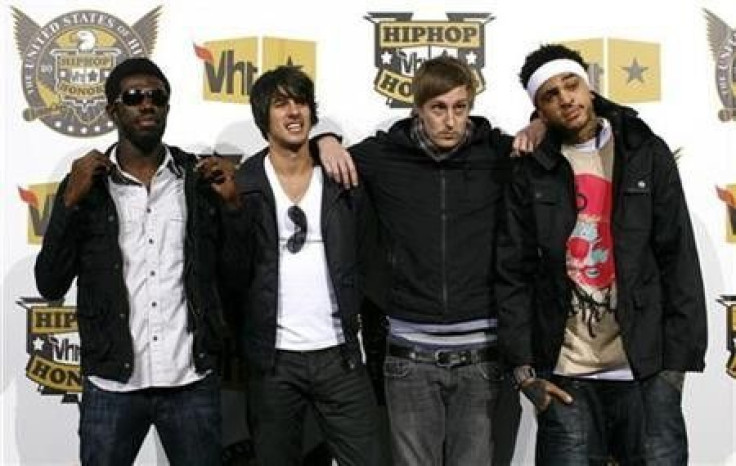 Gym Class Heroes has graduated from party life to adulthood on their latest album, The Papercut Chronicles II, a follow-up to their first CD after three records of anthems to youth, rebellion and just plain having fun.
Lead singer Travie McCoy said the new album represents a sort of coming-of-age for the band with songs about moving ahead after lost loves and thinking more deeply about topics such as how a rock star life is not always glamorous.
It's about...thinking about the bigger picture rather than the smaller things, McCoy told Reuters. I'm 30. We've all grown up now, some of us have kids.
Along with McCoy, the New York band features drummer Matt McGinley, guitarist Disashi Lumumba-Kasongo and bassist Eric Roberts. They released their first official studio album, The Papercut Chronicles in 2005, and from it came one of the band's best-selling singles, Cupid's Chokehold.
A second album in 2006, As Cruel As School Children, delivered more hit singles including Clothes Off! and was followed The Quilt in 2008, with its single Cookie Jar.
Recent years have found the band writing personal songs and some with themes around heartbreak and the isolation of pop stardom. McCoy said that to draw inspiration, the band returned to Papercut Chronicles and looked at how far they had come.
Papercut Chronicles II is the product of their musical soul searching and includes a fusion of sounds including hip-hop, rock and pop on tracks like Solo Discotheque (Whiskey Bitness), Lazarus, Ze Gitan and the upbeat Stereo Hearts.
We had a sense of urgency in the past records. We were young kids searching for a sound, said McCoy. We wanted to recreate not the album, but that sense of hunger.
McCoy said the album became a personal diary, to some extent, as he sings of past romances and fighting his demons.
'Live Goes On' defines me best, because people don't see that this life is not all glitz and glamour. There's a darker side, said McCoy.
ADAM LEVINE, RYAN TEDDER
The new album also features several collaborations such as on the lighthearted love song, Stereo Hearts, featuring Maroon 5 frontman Adam Levine. It currently sites in the top 5 on the Billboard singles chart.
One Republic's Ryan Tedder, who received Grammy nominations for writing and producing songs like Beyonce's Halo and Leona Lewis' Bleeding Love, created the inspirational tune The Fighter in which Tedder sings and McCoy raps.
While Levine and Tedder are high-profile collaborators, McCoy also works with lesser known artists such as Danish singer Oh Land, who supplies vocals on Life Goes On.
It's great to find people who might not be getting a lot of recognition but just have a ton of talent, said McCoy, There's a cool resurgence of 'out there' music like The Speakers. There are lots of artists I'm digging right now, like The Weekend and James Blake.
Despite the band's popularity and charting single Stereo Hearts, the album has not been received so warmly by critics.
Rolling Stone's Judy Rosen cited dull, rock-rap tunes with hooks that would've sounded dated a decade ago.
Entertainment Weekly's Kyle Anderson also criticized the album's revved-up aggro crunch and laughable lyrical raging against the machine, but praised some tracks where the band jettison their limp rap-rock instincts and plunge into crossover pop like the haunting 'Life Goes On'.
But McCoy is focused on his fans, and he believes they will accept the album as another Gym Class Heroes record, with the band's trademark fusion of different music styles.
What we listen to is so diverse so when it comes to our albums, they tend to reflect our tastes, and our fans like that, said the rapper.
© Copyright Thomson Reuters 2023. All rights reserved.