Hallmark Channel 'Frozen In Love' Premiere: Meet The Cast, Watch Trailer
Rachael Leigh Cook and Niall Matter are ready to heat things up and melt the ice in Hallmark Channel's newest Winterfest premiere, "Frozen in Love," which airs tonight (Jan. 13).
While this is only Matter's second Hallmark Channel flick, with his first being "Stop the Wedding" with Rachel Boston in 2016, he's also been in two Hallmark Movies and Mysteries films, "Finding Father Christmas" with Erin Krakow, also in 2016, and its sequel in 2017.
As for Cook, not only is this her fourth Hallmark Channel movie, with her first being "Summer Love" in 2016, but she also came up with and developed the story idea for "Frozen in Love," which is all about a bookstore owner and a hockey player.
Mary Campbell (Cook) is an uptight bookstore owner who's forced to face the reality that her Denver store, which was formerly run by her retired parents, might have to close its doors for good. Her brother, Tyler (Madison Smith), the opposite of Mary, wants her to start freshening up the store by incorporating podcasts and interactive technology. Mary decides to get some PR help to turn things around.
At the same time, the wild "Denver Royals hockey star Adam Clayborn (Matter) is suspended by Erica (Tammy Gillis), the current president of the team (whom he dated years prior), for 10 games for repeatedly sparring with the referee and being consequently ejected, and is subsequently sent to the same PR firm to help fix his reputation," the official synopsis shares.
"The PR plan is simple: pair him with someone in the community who is well-liked, who will balance him out, get him involved in local activities and do some volunteer work generating some positive press."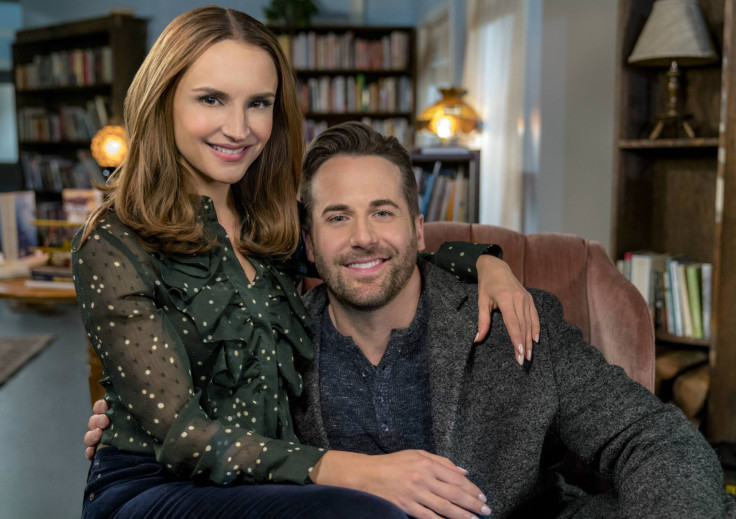 Mary's bookstore sponsors the local kids hockey team, which Adam ends up coaching. When the two meet at one of the practices, they quickly begin fighting and the press outlets there take notes on the whole situation, which doesn't help either of them.
Adam and Mary then help out at a book fair together, but they continue to bicker. Just when the PR plan seems likely to fail, they start working together to help out the local library. Adam starts to open up to her about his life and what he really caused him to get suspended and Mary begins to soften to him. The strategy seems to be working as Adam's becoming more likeable and business is picking up for her.
To build on the momentum, Mary plans a big 40th anniversary party with Adam hosting as a final push to keep the bookstore open. Of course, as the two get closer, their relationship grows. Erica isn't happy about this and when she sees their photo in the newspaper together, she asks Adam if he wants to get back together with her, but he declines.
"Later, at an urgently called meeting by Erica, she informs Adam he is needed at a VIP party for fans on the same night as the anniversary party and Adam must make a difficult choice: help the bookstore, or help his own career," the synopsis reveals.
Will Adam only think of himself and go to the VIP party or will he follow his heart and be there for Mary?
"Frozen in Love" premieres Saturday (Jan. 13) on Hallmark Channel at 9 p.m. EST.
© Copyright IBTimes 2023. All rights reserved.