Health Care Reform To Hit Low-Paid, Part-Time Workers Hardest - Study
ANALYSIS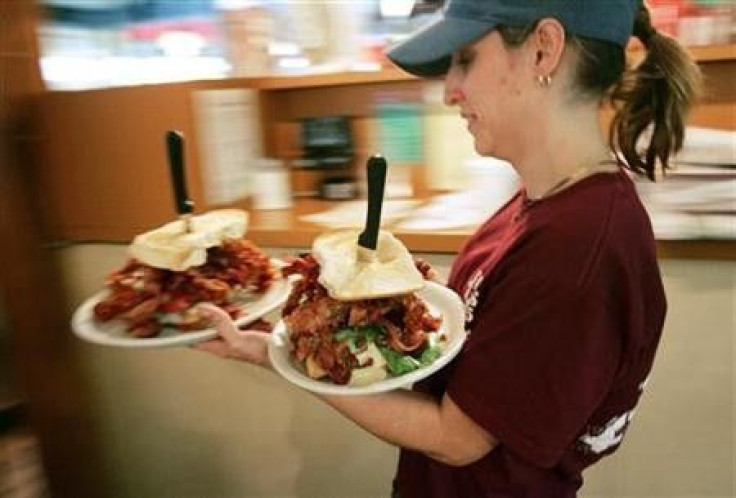 Nearly two-thirds of employers expect to see a cost hike in their health plans when the Affordable Care Act goes into effect in 2014, according to new data from the consulting firm Mercer.
Employers in the restaurant and retail industries -- those with a large number of hourly wage workers who traditionally had minimal or no health insurance -- are more likely than other companies to drop their health plans or cut worker's hours in order to maintain their already slim profit margins.
According to a Mercer survey of 1,203 employers, nearly half of retail and hospitality employers expect the health care overhaul to push up cost by at least 3 percent in 2014, with another third don't yet know what the impact will be.
Papa John's CEO John Schnatter told shareholders during a conference call last week that the health care reform will cost the company an additional 11 cents to 14 cents per pizza, which equates to 15 cents to 20 cents per order.
McDonald's Corporation (NYSE: MCD) voiced similar concerns. The world's largest restaurant chain's CFO Peter Bensen said during a conference call in late July that complying with the health care law will cost as much as $420 million annually. McDonald's will likely raise its menu prices when the law goes fully into effect in 2014 to cover the health costs, according to CFO Journal.
"With health benefit cost already rising at twice the rate of general inflation, an additional increase of 3 percent or more will be very tough for employers to absorb," Sharon Cunninghis, leader of Mercer's U.S. Employee Health & Benefits business, said in a statement.
The major provisions of the so-called Obamacare scheduled to take effect in 2014 affect employers with large numbers of part-time and low-paid workforces. For example, beginning in 2014 employers with 50 or more full-time workers -- defined as those working at least 30 hours a week -- will be required to extend coverage to all full-time employees or face possible penalties of $2,000 per employee.
Many retail and restaurant employers hover around the 50-worker threshold and feel that it would make economic sense to stay small -- cut hours or eliminate worker -- to avoid triggering the requirements of the law.
Mercer found that about 46 percent of restaurant and retail companies said they would have to change in some way once the law comes into effect, compared with 16 percent of financial-services companies.
"Extending coverage to more employees will be a significant new expense for these employers," said Tracy Watts, Mercer U.S. health care reform leader in Washington.
© Copyright IBTimes 2023. All rights reserved.