Heat's Bosh Out For Season Due To Blood Clots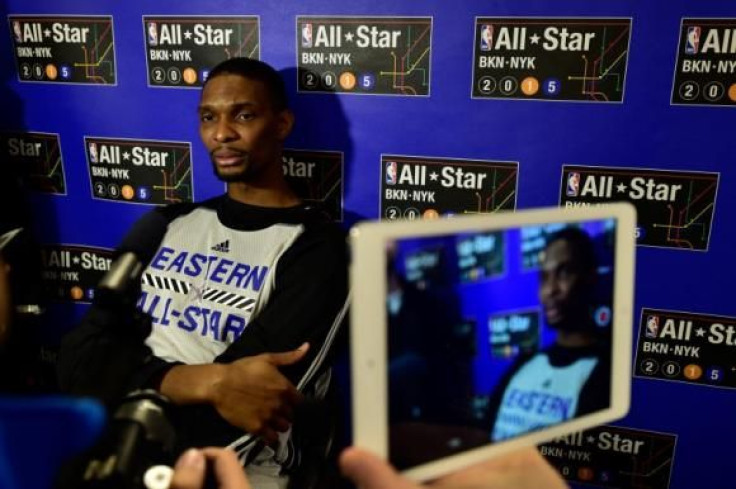 Miami Heat All-Star forward Chris Bosh has been ruled out for the rest of the season due to blood clots on his lungs, the NBA team said on Saturday.
Bosh, 30, the team's second-leading scorer, was admitted to a Miami-area hospital on Thursday and had initial tests that proved inconclusive before the clots were diagnosed.
"Chris Bosh will miss the remainder of the 2014-15 Season, while being treated for blood clots on his lung," the Heat said in a statement. "Bosh, who is receiving care under the guidance of Miami Heat team physicians at a Baptist Health System Hospital, is currently resting comfortably. Chris is OK and his prognosis is good."
Bosh, a 10-time All-Star who won NBA championships with the Heat in 2012 and 2013 and Eastern Conference championships in 2011 and 2014, averaged 21.1 points and seven rebounds in 44 games this season.
Cleveland Cavaliers forward LeBron James reached out to Bosh, his former Heat teammate, with a heartfelt message on Twitter Friday.
"Wish I could be there by your side this very moment to tell a joke or something homie. Just to get your mind off what you're going through!" James tweeted. "But I know you're strong and will come back better than ever on and off the court."
World No. 1 tennis player Serena Williams discovered a life-threatening blood clot in 2011 that forced her to miss several months of action.
Former NBA player Jerome Kersey died earlier this week at 52 from a blood clot that traveled from his left calf to his lung.
(Reporting by Mark Lamport-Stokes in Pacific Palisades, California; Editing by Larry Fine)
© Copyright Thomson Reuters 2023. All rights reserved.