Here Are The 12 GOP Senators Who Voted For Same-Sex Marriage Bill
KEY POINTS
The Respect for Marriage Act avoided a filibuster after 62 senators, including 12 Republicans, voted in favor
Sen. Susan Collins, a staunch Republican supporter of same-sex marriage, is one of the bill's cosponsors
Sen. Mitt Romney supported the legislation after the Mormon church declared its support for the bill
The Senate on Wednesday voted 62-37 to advance a proposed legislation seeking to provide federal protections for same-sex and interracial marriages.
The Senate vote to invoke cloture on the Respect for Marriage Act came more than a week after the midterm elections, which resulted in Democrats retaining control of the upper chamber in the next Congress but losing the House to the Republicans.
Twelve Republican senators sided with 50 Democratic senators to overcome a filibuster, ensuring that the bill was on track to be approved by the Senate.
Here are the 12 Republican senators who voted to advance the bill:
Sen. Roy Blunt of Montana
The Republican senator from Montana supported the bill after religious liberty protections were added.
In his statement, Blunt said the LGBTQIA+ community and religious organizations would both benefit from the measure.
"People who are legally married in one state have the same protections and responsibilities in any other state that are offered to and required of marriages," Blunt said, The Hill reported. "And, this legislation enhances the religious freedom for all Americans by protecting religious organizations from retaliation by federal agencies due to their views on marriage."
Blunt is expected to retire as senator by January of next year.
Sen. Richard Burr of North Carolina
Burr, who is also set to retire next year, voted to advance the bill.
In 2010, Burr voted to repeal the controversial Don't Ask, Don't Tell law. He called the law "outdated" said "repeal is inevitable."
Sen. Shelley Moore Capito of West Virginia
Capito said the bill would ensure the protection of non-religious organizations and would not affect their tax-exempt status.
Local TV news outlet WBOY 12 reported that Capito is proud that her home state made same-sex marriage legal in 2014, a year earlier than the Supreme Court ruling on Obergefell v. Hodges that made it legal on the federal level.
Sen. Susan Collins of Maine
Collins joined Democratic senators in crafting the bill, becoming its lead Republican sponsor.
The moderate GOP senator said the bill "would help promote equality, prevent discrimination, and protect the rights of Americans in same-sex and interracial marriages." Collins added that the bill would strengthen religious liberty and conscience protections.
In 2004, Collins voted against a proposed Constitutional amendment to ban same-sex marriage. She also voted to repeal the Don't Ask, Don't Tell law in 2010.
Sen. Joni Ernst of Iowa
Ernst said she supported the bill because it would "simply maintain the status quo in Iowa" after her fellow Iowan Sen. Chuck Grassley voted against it due to his religious freedom concerns.
Sen. Cynthia Lummis of Wyoming
Lummis' vote to support the bill is a welcome development for LGBTQ rights advocates in Wyoming.
During her time as House representative for Wyoming, Lummis cosponsored bills that would circumvent federal recognition of marriage equality and prevent the federal government from punishing a person acting on their religious belief, Casper Star Tribune reported.
Sen. Lisa Murkowski of Alaska
Murkowski said she has long supported marriage equality, believing that "all lawful marriages deserve respect."
In her 2013 op-ed, the senator said she was influenced by a military family of two women who fostered children. Murkowski added that marriage equality would ensure less federal intrusion.
Sen. Rob Portman of Ohio
Portman is one of the five senators who spearheaded the Respect for Marriage bill.
According to their joint statement, the bill contains "commonsense language to confirm that this legislation fully respects and protects American's religious liberties and diverse beliefs."
In 2013, Portman was the only Republican senator who endorsed marriage equality.
Sen. Mitt Romney of Utah
Romney voiced his support for the legislation after the Church of Jesus Christ of Latter-day Saints endorsed the bill. Romney is a member of the Mormon church.
"This legislation provides certainty to many LGBTQ Americans, and it signals that Congress — and I — esteem and love all of our fellow Americans equally," Romney said in his statement.
Sen. Dan Sullivan of Alaska
Sullivan joined his fellow Alaskan senator Murkowski in voting in favor of the bill.
Ben Dietderich, Sullivan's spokesperson, told Alaska public media KTOO that the senator gave his thumbs up for the bill after religious liberty protections were inserted.
However, Sullivan said the bill is necessary due to the Supreme Court's 2015 ruling favoring same-sex marriage.
Sen. Thom Tillis of North Carolina
Tillis was one of the bill's advocates and inserted provisions protecting religious liberties.
Tillis' stance against gay marriage has softened throughout the years. He led the North Carolina state house to pass a bill banning same-sex marriage, which was later overturned, News&Observer reported.
Sen. Todd Young of Indiana
Young's support for the bill came as no surprise, as he supported an amendment in 2016 that upheld an Obama-era executive order protecting the sexual orientation of federal contractors.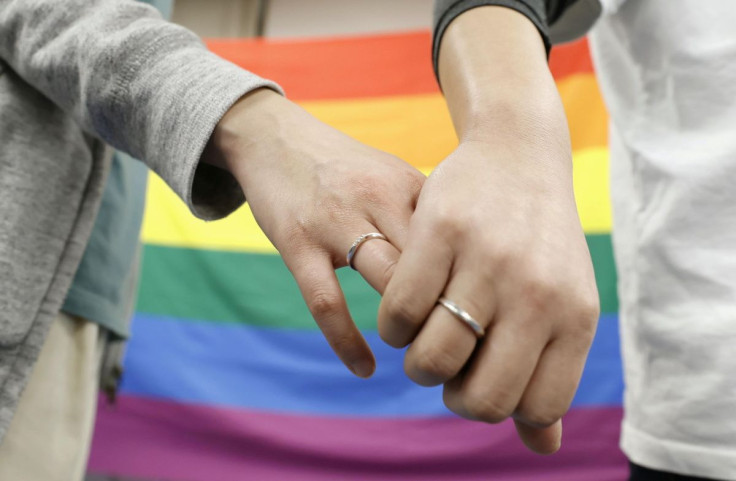 © Copyright IBTimes 2023. All rights reserved.
FOLLOW MORE IBT NEWS ON THE BELOW CHANNELS