Here's What Jin And J-Hope Told Suga About His Military Service: 'Fighting!'
KEY POINTS
Suga went live on Weverse after BigHit Music announced his military service schedule
His BTS bandmates Jin and J-Hope dropped by and left comments on his Weverse Live
Suga will begin his mandatory military service this Friday
BTS' Jin and J-Hope, who are currently fulfilling their mandatory military service in South Korea, appeared in the comments section of Suga's recent Weverse Live to send their encouragement for their bandmate's upcoming military service.
Jin, the eldest member of BTS and the first member to enlist in the military, commented, "Yoongi, cheer up! I'm rooting for you!" Before he left, Jin commented again, "We're always cheering for you. Have strength. Fighting!"
J-Hope, also known by his nickname Hobi, said, "Your hair looks good on you." He shared that he watched Suga's live before handing his phone in.
"Jin hyung and Yoongi hyung, rest comfortably," J-Hope said in his last comment before leaving.
According to Jin, he and J-Hope were talking about Suga when their bandmate started a live broadcast on Weverse.
He said he was texting J-Hope and wondered where his bandmate went when he stopped replying and found him in the comments section of Suga's Weverse Live.
On Sunday, BigHit Music announced via Weverse further information on Suga's military service and communicated with ARMYs – BTS fans – that there will not be any official event taking place on the day the South Korean rapper-singer-producer starts his service or on the day he enters the military training camp.
BigHit Music also asked ARMYs kindly not to visit Suga at his workplace during his service. Suga's label also warned fans to be mindful of unauthorized tours and packages illegally using its artist's intellectual property.
Ending the letter, BigHit said, "We ask for your continued love and support for SUGA until he completes his service and returns. Our company will also strive to provide all the support he needs during this time."
Suga will be the third member of BTS to fulfill his required military service. He follows Jin and J-Hope, who enlisted in the military in December 2022 and April 2023, respectively.
Before his enlistment, Suga embarked on a solo world tour in support of his debut solo album, "D-Day," released in April.
The 30-year-old South Korean artist kicked off his "Agust D | D-Day" tour in North America before heading to its Asian stops. He toured from April to August.
As he ended his Weverse Live, Suga promised ARMYs, "There's no need to cry. We said we would meet again in 2025, right? We promised right? 2025! Let's see each other in 2025! Bye!"
Suga's required service will reportedly end on June 21, 2025.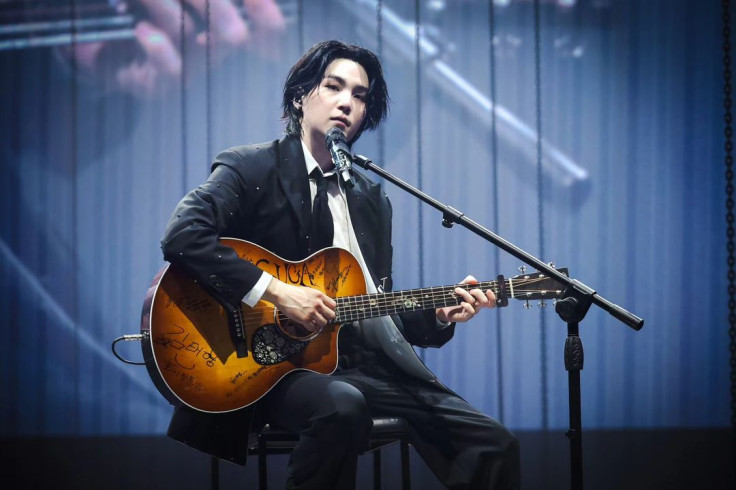 © Copyright IBTimes 2023. All rights reserved.