Brazilian Woman Escapes Robbery After Thief Sees Military Photo Of BTS Jin On Her Phone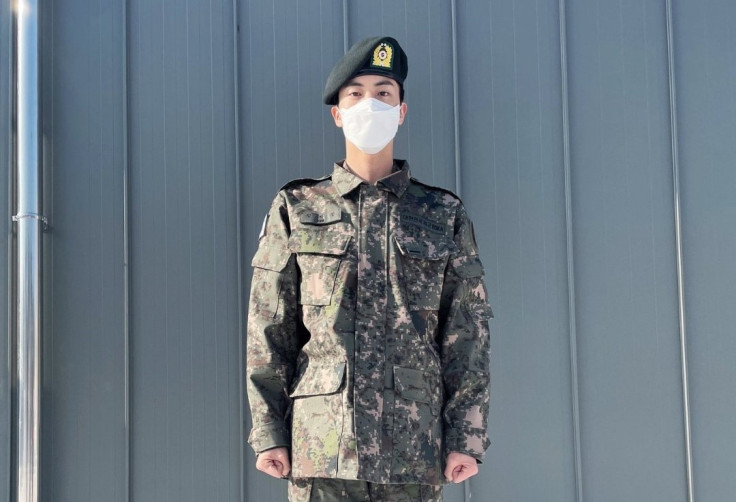 KEY POINTS
A woman was saved from a robbery attempt by BTS member Jin's photo on her phone
The would-be robber thought that the victim's boyfriend was a soldier and fled
The woman's story has spread worldwide and was picked up by major news outlets in South Korea
BTS member Jin saved a Brazilian fan from a robbery attempt without him knowing.
On Wednesday, Brazilian news outlet RIC Mais reported that a 21-year-old woman in Brazil managed to escape a robbery attempt because of a photo of Jin – whose real name is Kim Seok-jin – attached to her cell phone.
According to the report, the would-be robber approached Natali, the victim, while she was at a bus stop earlier this month.
After taking her phone, the unidentified robber looked through the device and found a photo attached to its back part, according to the woman.
Natali, a BTS fan, had a photo of Jin in military uniform pasted on the back of her mobile phone. Seeing this, the robber gave back her device and ran away.
"He must have thought, 'Oh. Her boyfriend is a military soldier. I won't steal,'" said Natali.
According to RIC Mais, Natali's story of how she escaped a robbery because of a photo of a BTS member has spread worldwide and was picked up by major news outlets in South Korea, including SBS, News1, JoongAng Ilbo, Herald Economy and Sports Chosun, among many others.
In other news, Jin, the eldest member of BTS and the group's first member to enter the military for mandatory service, was promoted to corporal and is now part of the South Korean military's "elite class of warriors" after excelling in shooting, physical strength and mental power.
According to the official blog of the South Korean Ministry of National Defense, "special class (elite) warrior" is a "title of honor given to soldiers who are armed with strong physical strength and spirit, even among non-specialized soldiers."
Ordinary soldiers, as well as officers, are evaluated equally. Soldiers who are found to excel in shooting, physical strength and mental power are given the title of special class warrior.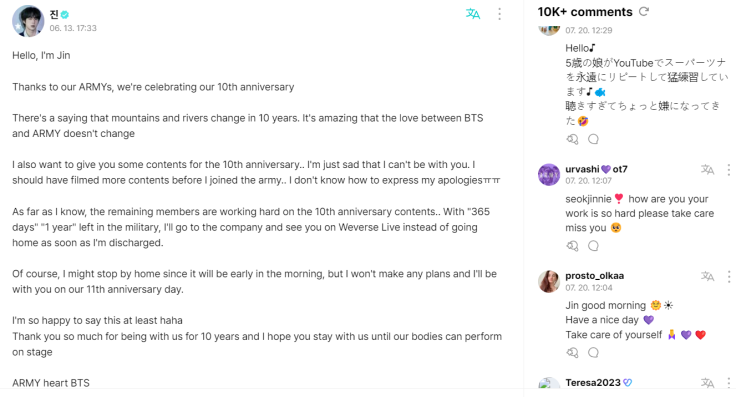 Although currently doing his military service in South Korea, Jin took to Weverse on the day of BTS' 10th anniversary to leave a heartwarming letter for fans. He promised that he would immediately meet with ARMYs – BTS' fans – via a live broadcast on Weverse after his discharge.
Jin entered South Korea's military on Dec. 13, 2022. He was followed by J-Hope in April, while their bandmates RM, Suga, Jimin, Jungkook and V have yet to announce plans for their enlistment.
Before leaving for the military, Jin left ARMYs with his solo song, "The Astronaut." With the help of his friends from Coldplay, he made a special appearance at the British rock band's "Music of the Spheres" concert in Buenos Aires, Argentina, in October and performed "The Astronaut" live.
Prior to his live performance at Coldplay's concert, Chris Martin shared the origin story of Jin's song, which was co-written by him.
"About six months ago, one of [BTS'] members called me up and he said, 'I have to leave the band in December for two years to join the army in South Korea because that's the rules there,'" Martin shared.
"And he said, 'I need a song that says goodbye to everybody for a little while and tells them that I love them.' ...So I said, 'Okay, we'll do a song together,'" the singer, whom Jin fondly calls his "Chris Martin hyung," continued.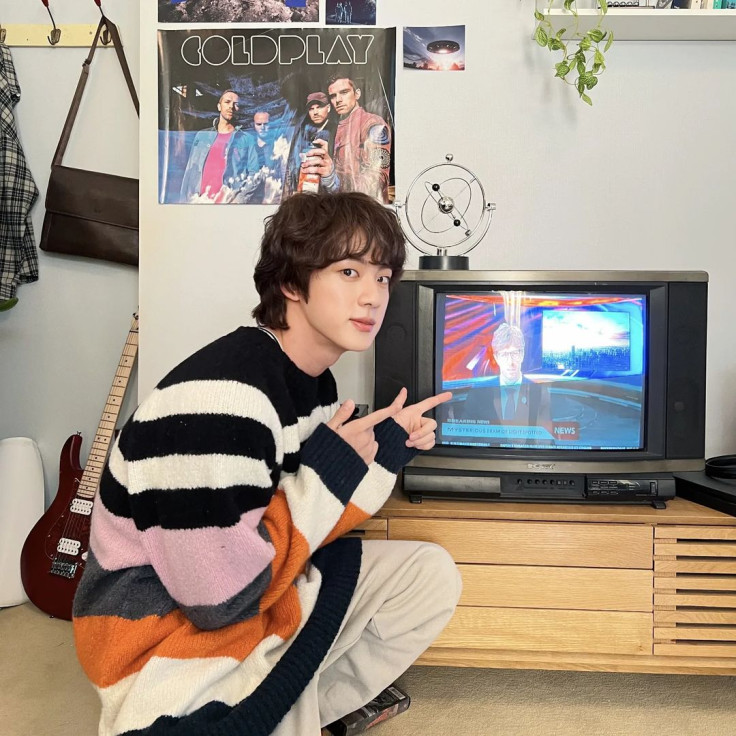 © Copyright IBTimes 2023. All rights reserved.