Hillary Clinton Email Release: Clinton Not Sure Why #TextsFromHillary Photo Went Viral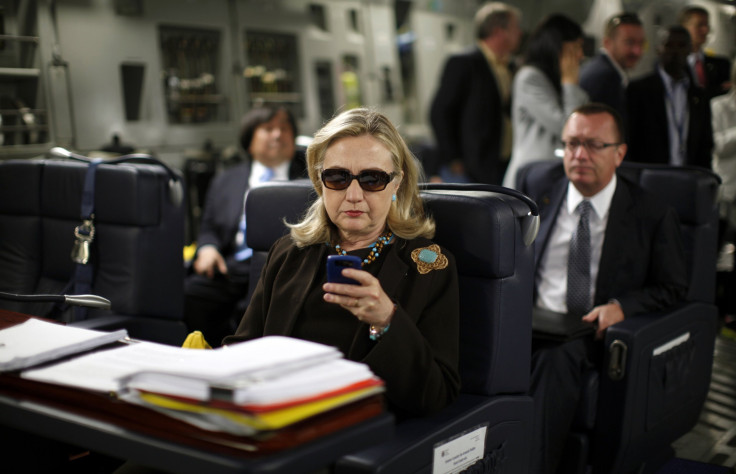 Hillary Clinton may not be quite as social-media savvy as her presidential campaign's aggressive digital strategy would imply. The former secretary of state seemed confused in a 2012 email when she was told that a now-famous photo of her checking her mobile phone and wearing sunglasses had gone viral.
When the one-time top U.S. diplomat received a forwarded email from aide Cheryl Mills in April 2012 that told her about the photo and that "everyone is posting it," Clinton questioned its popularity.
"Why now? That was on way to Libya?" Clinton responded.
Mills reassured her, replying: "You look cute."
The photo of Clinton looking at her phone was taken while she was on a flight to Tripoli, Libya, in October 2011. It became famous after people on the internet made it into a meme called "Texts from Hillary" that involved fake text messages between Clinton and public figures such as President Barack Obama or celebrities like Meryl Streep.
After Clinton finished her job at the State Department, she embraced the photo publicly, using it on her own Twitter account and responding to the fans behind the Tumblr that collected "Texts from Hillary" creations.
Even after the former secretary of state launched her 2016 bid for the White House, she continued to use the meme over the summer. In June, her Twitter account posted the photo with a message telling followers to sign up to receive texts from her campaign.
In more recent months, Clinton has stopped using the photo as she has tried to avoid scandals over her knowledge of the 2012 attack in Benghazi, Libya, that killed four Americans and over her use of a private email account during her time as secretary of state. Because the photo shows Clinton on her way to Libya and looking at a phone on which she could have been checking emails, the meme has likely become less amusing to her campaign over time.
© Copyright IBTimes 2023. All rights reserved.